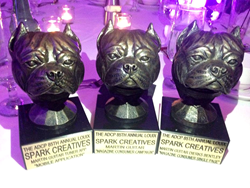 Winning awards over larger agencies is proof that our sound strategy, intelligent creative and compelling content is a potent blend of thinking that sets Spark apart from other ad agencies and elevates our clients from the competition
Bethlehem, Pa (PRWEB) March 03, 2014
Creative work produced by Lehigh Valley advertising agency Spark (sparkcreatives.com) captured three "Gold Louix" awards at the 85th Annual Art Directors' Club of Philadelphia Award Show, held on February 27 at Hotel Monaco in Philadelphia. The event recognizes the best advertising and design work each year from the greater Philadelphia area.
Spark won Gold Louix awards for its C.F. Martin & Co. consumer magazine ad featuring country star Dierks Bentley, its consumer magazine campaign for C.F. Martin & Co., and its mobile guitar tuner application for C.F. Martin & Co.
"Spark prides itself on not only being the best in Lehigh Valley, but producing work that's comparable to the best campaigns in the nation," said Denis Aumiller, Art Director and Partner at Spark. "Winning awards over larger agencies based in Philadelphia is proof that our sound strategy, intelligent creative and compelling content is a potent blend of thinking that sets Spark apart from other ad agencies and elevates our clients from the competition."
This is the first year Spark has entered work for the Art Directors' Club of Philadelphia Louix Awards. Spark submitted work for six award categories and won three Gold Louix awards among hundreds of submissions. The award-winning submissions can be viewed at the following links:
C.F. Martin & Co. consumer magazine ad
C.F. Martin & Co. consumer magazine campaign
C.F. Martin & Co. mobile guitar tuner application
Spark was the only Lehigh Valley-based agency to be recognized at the awards show.
The Art Directors' Club of Philadelphia was founded in 1924. The organization is open to all creatives - designers, art directors, illustrators, web designers, videographers, animators and copywriters. Its mission is to foster collaboration and inspiration among existing creatives, elevate local talents and resources, and empower the next generation of creative professionals.
About Spark
Spark is dedicated to groundbreaking creative approaches designed to help organizations build their brands, enhance their images and improve their bottom lines. The agency was formed to fill a hole in the Eastern Pennsylvania ad scene — an agency relentlessly devoted to creativity. The firm's 2013 capitalized billings topped $7 million.
Spark is actively seeking new clients that share the company's creative philosophy. Interested companies can contact Michael Drabenstott at (484) 821-0920 x 704 or drabenstott(at)sparkcreatives(dot)com.