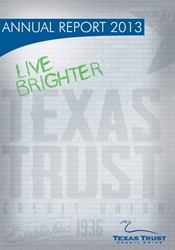 Our goal is to build brighter financial futures for our members, and our growth in 2013 reflected our success in achieving that objective
Mansfield, Texas (PRWEB) March 03, 2014
Powered by its mid-year merger with Security One Credit Union, Texas Trust Credit Union grew its assets by more than 10 percent in 2013, its loans by 19 percent, and its total membership by 29 percent.
Texas Trust, one of the largest credit unions in North Texas, reported the growth in its annual report, which it made public today. The report showed that Texas Trust, with assets of $825 million, is rapidly closing in on its ambitious goal of becoming a $1 billion credit union by the end of 2016.
For the year, Texas Trust increased its member base by a total of 15,773 new members, ending the year with more than 70,000 members. That 29 percent growth reflects the addition of 9,000 former Security One members. On the strength of 450 new mortgage loans, it grew its loan portfolio – which includes auto and personal loans, home mortgages, and commercial loans – by 19 percent. Texas Trust ended 2013 with $564.7 million in loans, after starting the year at $477 million.
"Our goal is to build brighter financial futures for our members, and our growth in 2013 reflected our success in achieving that objective," said Jim Minge, CEO of Texas Trust Credit Union. "We are driving this growth through our focus on member convenience, exceptional service, financial strength, community partnerships, and trust."
The 78-year-old credit union opened five new branches in 2013, bringing its total throughout its five-county service area to 15. That includes two former Security One branches and an in-school branch at DeSoto High School.
Also in 2013, Texas Trust launched an alliance with the University of Texas at Arlington, becoming the official credit union sponsor of intercollegiate athletics. As part of that alliance, Texas Trust will open an on-campus branch this year and place its ATMs in numerous campus locations.
For the year, Texas Trust raised more than $257,000 for five participating school districts in its Spirit Debit Reward card program. In that program, Texas Trust gives partnering schools 15 cents every time a special school-associated debit card is used to make a purchase.
In other year end highlights:

The top three loan categories for Texas Trust are real estate, at 32%, used vehicles at 29%, and new vehicles at 22%.
There were more than 39,000 mobile deposit transactions in 2013, after Texas Trust introduced the service in April.
Texas Trust significantly expanded its ATM network in 2013, adding locations at Murphy USA fuel stations throughout the area.
About Texas Trust Credit Union
Texas Trust, one of the largest credit unions in North Texas and the 17st largest in Texas, provides financial services that enable members to build brighter financial futures. As a full-service financial institution, Texas Trust offers checking, savings, mortgages, credit cards, CDs, Money Market accounts, IRAs, and investment and insurance services. Its business services include SBA and conventional loans, electronic payment cards, checking and money market accounts, merchant card processing, online banking, insurance and the Employee Solutions Network. With assets of $825 million, Texas Trust operates in Dallas, Tarrant, and Henderson counties, as well as parts of Ellis and Johnson counties. It has 15 branches in Mansfield, Grand Prairie, Arlington, Cedar Hill, DeSoto, Hurst and Athens. Texas Trust is a federally insured financial institution. Deposits up to $250,000 are insured by the full faith of the federal government through the National Credit Union Administration (NCUA). For more information, visit http://www.TexasTrustCU.org.