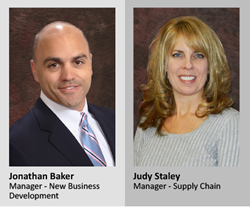 "Baker will be a tremendous help in advancing the unit load strategy and we are excited to have him on our team." - Kirk Ambrose, General Manager - Liberty Technologies
Vienna, OH (PRWEB) March 05, 2014
Liberty Technologies, a Millwood, Inc. Company (http://www.libertytechnologies.com), and a worldwide industry leader and innovator of unit load and packaging systems, materials and services, recently added Jonathan Baker to the sales team and promoted Judy Staley.
"Jonathan brings many years of experience in capital equipment sales," said Kirk Ambrose, General Manager - Liberty Technologies. "He firmly grasps the complex mechanics behind our product offerings."
Baker is one of Liberty Technologies' Managers – New Business Development. He is responsible for growing the equipment business with a focus on machinery and systems. Baker has a bachelor's degree in business administration from Miami University and has 16 years' experience in capital equipment sales. He and his wife have three children and live in Chagrin Falls, OH.
"Baker will be a tremendous help in advancing the unit load strategy and we are excited to have him on our team," said Ambrose.
Staley will take on the role of Manager – Supply Chain and expand her responsibilities. She has been a part of the Liberty Technologies team for 26 years. In this new role, Staley will guide a team charged with enhancing product lines via vendor collaboration.
Ambrose stated, "Judy has been a key driver in the success of Liberty Technologies for many years. Her experience in our industry will bring a great deal of knowledge and experience in this new role."
Other responsibilities will include working with Marketing to better align outbound communications on product offerings, providing solutions for customer and prospect issues and acting as a liaison for the sales channel.