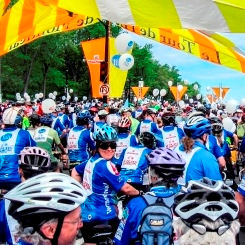 Fantastic cycling routes, a great cause, and a superb way to tour Montréal.
Burlington, Vermont (PRWEB) March 04, 2014
Sojourn Bicycle Tours announces it will host Vermontréal, a benefit bike tour from Burlington, Vermont to Montréal, Québec from May 29 through June 1, 2014. The trip passes through the Lake Champlain Islands and Québec's rural farmland before entering Montréal via bike paths. It concludes with a ride in the 30th Anniversary Tour de L'Île, a festive 50 kilometer recreational level tour of the city over streets that are open only to bicycles for the event.
Vermontréal is designed to raise funds for Local Motion, Vermont's premier bicycling and pedestrian advocacy organization, as well as to highlight international cycling routes in the region. All proceeds from the ride will go to non-profit Local Motion's operating budget.
Participants in Vermontréal will head north from Burlington on the Island Line Bike Trail then cross a short gap over Lake Champlain on Local Motion's bike ferry. Sojourn will host a picnic lunch for participants at local winery and lodging will be at a lakeside inn following an opening banquet that evening. The second day of the trip follows Lake Champlain north through the Lake Champlain Islands and across the Canadian border into Québec's farmland.
Day three offers long and short options for cyclists, including rides along the locks that parallel the Chambly Canal bike path as well as a visit to Fort Chambly and a Québec ciderie. Both rides enter Montréal on bike paths. The final morning of the trip participants will experience the height of Montréal's bike-friendly stance when the city is showcased by bike during a 50 kilometer tour route along roads opened only to cyclists. This grand recreational ride attracts tens of thousands of riders of all ages.
Trip cost is $1095 per person double occupancy and includes entry into the Tour de L'Île as well as transportation back to Burlington at the conclusion of the tour. Also included is professional support by Sojourn trip leaders along the routes, three nights of lodging, daily breakfast, picnic lunch, and opening banquet.
Based in Burlington, Vermont, Local Motion was started in 1999 and has numerous achievements such as raising funds to repair the Island Line Bike Trail after it was demolished by a hurricane in 2011, managing an on-going "Safe Streets" campaign, operating a bike recycle program that has donated over 2,000 bikes to disadvantaged youth and adults, and operating safe bicycling education programs for youth.
Sojourn has been provided support for Local Motion for a number of years and most recently has been the lead sponsor for the Vermont Bike Challenge which was the National Bike Challenge winner in both 2012 and 2013. The company has also made sizable donations of bicycle supplies such as wheels, tires, and spare parts to the Bike Recycle Program and in-kind donations to many Local Motion fund raising events.
Sojourn Bicycle Tours is based in Charlotte, Vermont and operates deluxe bicycling vacations in the US and Canada. The company has been in business since 2005 and is privately owned.