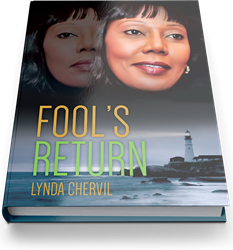 White Plains, NY (PRWEB) March 03, 2014
"Fool's Return,'' a new novel being released March 3, taps the contemporary zeitgeist in a story that intertwines suspense, past life regression and energy technology.
"I am interested in metaphysics and cutting-edge ideas that advance and improve technology. The narrative of my novel brushes on metaphysical topics that inspire change and rebirth and features a lithium ion battery at the cutting edge of nanostructure science. These seem like two strong themes for a compelling story about a woman seeking change," says Chervil, a thought leader with a strong interest in personal and environmental sustainability and energy technology.
"My main character, Gabrielle, is a venture capitalist stuck in her job and in her marriage. On a business trip to Castine, Maine, she meets a fortune teller whose intuitive guidance takes her on a spiritual journey that in many ways reflects her technological mission, which has profound implications for the planet."
Interestingly, Chervil says, the futuristic energy technology she envisioned when she wrote "Fools Return" is already beginning to make headlines.
"Gabrielle gets involved with a project, a new battery with an amazing capacity to hold a solar-generated charge. It's the very thing we need to render the traditional power grid obsolete," she says.
In an unusual case of life imitating art, Tesla Motors' CEO recently announced the electric-car manufacturer plans to build a "gigafactory" to significantly boost production of its energy-storing batteries. Given that Tesla batteries store enough energy to power a house for more than three days, the move brings traditional utilities one step closer to their eventual demise, experts say.
Chervil's novel integrated the Tesla brand, featuring Tesla Model S and SolarCity as the solar panel company that provided the solar-generated charge for the battery technology prototype at the heart of the story.
As a sustainability advocate and skilled marketer, Chervil integrated and co-branded a suite of luxury brands with good to strong sustainability records to add breath to the narrative. They include Mercedez Benz, Jaguar/Land Rover, Chanel, Louis Vuitton, Tiffany, It's Potent! Benefit, Puma, Boucheron and Bottega Veneta.
"I am committed to working with Ms. Chervil, brand owners and motion picture houses on sourcing opportunities for an Enhanced E-book version and film adaptation of her novel," said Jordan Yospe, one of the country's leading brand integration experts and an authority on sourcing, negotiating and managing brand integration deals for films, television, new media and video game placements.
"I found the novel fun to read, yet at the same time, it made me think about life on a larger scale, as Gabrielle confronts both spiritual matters and how to better the lives of others across the world through revolutionary energy-saving technology," writes CreateSpace editor Jennifer.
Alongside the book's realistic plot line, which includes big-business problems associated with the development and sale of new technology, runs Gabrielle's personal spiritual journey.
"Gabrielle has spiritual choices she has to make and lessons to learn, which I think all of us can learn from," Chervil says.
About Lynda Chervil
Lynda Chervil graduated from New York University with a master's degree in Integrated Marketing Communications. She has extensive experience in consumer and commercial banking and has held positions in new business development, sales management and executive leadership. Chervil seeks to push the limits of established understanding by exploring alternative forms of spiritual healing, and, through creative writing, to expand the narrative of cutting-edge energy technology to promote sustainability. For more information visit http://www.lyndachervil.com/.