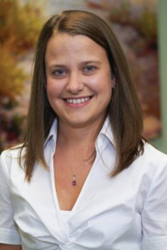 Richmond, VA (PRWEB) March 03, 2014
Tidewater Physical Therapy is pleased to announce that Amanda Tolbert, PT, DPT received the 2012-2013 Old Dominion University (ODU) School of Physical Therapy and Athletic Training Outstanding Clinical Instructor Award.
Tolbert was recognized for her "strong teaching abilities, interpersonal relations, communications skills, and professional skills and core values," wrote Dr. Elizabeth Locke, Senior Lecturer and Director of Clinical Education at ODU.
Each year a committee of third year physical therapy students at ODU recognize individual instructors for their performance and select one as the recipient for the award.
Tolbert graduated from Virginia Commonwealth University in 2007 with a Bachelor of Science in Psychology. She continued her studies at ODU, where she received her Doctorate of Physical Therapy in 2010.
Her name will be engraved in a plaque at the school.
Her name is also on the front doors of Tidewater Physical Therapy's newest clinic.
Tolbert now serves as the Clinical Director of Tidewater Physical Therapy's newest location – Westchester Commons in Richmond, located in Midlothian's Westchester Commons Shopping Area near the Sedona Tap House.
The Westchester Commons location opened in early February.
In addition to treating general orthopedic patients, Tolbert works with women suffering from pelvic pain, incontinence, and pelvic organ prolapse. She has a special interest in treating injuries of the lower extremity, particularly those that are sports-related.
Tolbert takes a holistic approach to her physical therapy practice that combines a balance of therapeutic exercises, manual therapy, and individualized patient education to bring each patient back to their maximal level of functioning.
TWEET THIS: Three cheers for Amanda Tolbert, ODU Outstanding Clinical Instructor! #TPTI #PT
ABOUT TIDEWATER PHYSICAL THERAPY:
Founded in 1986, Tidewater Physical Therapy remains a physical therapist-owned, independent, outpatient physical therapy practice, with more than 30 locations across Southeast and Central Virginia and three Performance Centers.
For more information about Tidewater Physical Therapy, visit http://www.tpti.com. Learn more about the Tidewater Performance Center at http://www.tidewaterperform.com.
Physical therapists (PTs) are health care professionals who diagnose and treat individuals of all ages, from newborns to the very oldest, who have medical problems or other health-related conditions that limit their abilities to move and perform functional activities in their daily lives.
PTs examine each individual and develop a plan using treatment techniques to promote the ability to move, reduce pain, restore function, and prevent disability. In addition, PTs work with individuals to prevent the loss of mobility before it occurs by developing fitness- and wellness-oriented programs for healthier and more active lifestyles.
Physical therapists provide care for people in a variety of settings, including hospitals, private practices, outpatient clinics, home health agencies, schools, sports and fitness facilities, work settings, and nursing homes. State licensure is required in each state in which a physical therapist practices.
A Doctor of Physical Therapy (DPT) degree is a post-baccalaureate 3-4 year degree which may be conferred upon successful completion of a professional doctoral program.