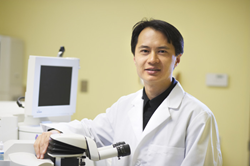 New York, NY (PRWEB) March 04, 2014
Dr. Emil Chynn is ramping up his search for a wife by appearing on Millionaire Matchmaker, the hit series has long claimed to be able to pair up millionaires with eligible singles. Were Patti and her crew of cohorts able to help the renowned ophthalmologist?
Dr. Chynn's dating life has long been the subject of intense media scrutiny due to his high profile as one of the country's top laser vision correction surgeons. Countless articles have examined the doctor's personal life including an interview with legendary shock jock Howard Stern. This rip-roaring interview covered a wide range of intimate topics, from his bedroom prowess and the size of his endowment, to why he only dates anorexic models.
Media outlets around the world have shown an almost-obsessive interest in the eye surgeon's search for a wife, including the Huffington Post, NY Post, ABC, Fox and CNN in the US, and French TV1 and The Guardian in Britain all covering his romantic exploits. Thursday's airing of Millionaire Matchmaker promises to generate a similar feeding frenzy.
Although Dr. Chynn was apprehensive when the idea was first broached, he decided to embrace the experience and make the best of it. Tune in on March 6th to see if he found his "true love".
Dr. Patty Ann's techniques combine professional expertise and personal experiences to help people design healthy, happy relationships for success in business and life. She's a featured media expert in major publications, television and radio networks including SUCCESS Magazine, The Huffington Post, CNN.Fortune Postcards, Fortune, Ladies' Home Journal, Entrepreneurial Woman Magazine, Lifestyles Magazine, ABC, NBC, CBS, FOX News, The Wall Street Journal, and Martha Stewart Radio Show. She's the weekly relationship expert for the 95.9 FOX Radio - #1 Morning Radio Talk Show in Connecticut.
Dr. Patty Ann holds a Doctorate in Clinical Psychology, a Master's Degree in Clinical Social Work, a Master's Degree in Nursing and she's a Registered Nurse and a board-certified psychotherapist. Dr. Patty Ann writes a relationship advice newsletter called Two Hearts Beating As One™ and a relationship advice blog at: http://www.drpattyann.com.