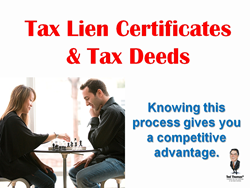 You do not have to be an MBA graduate from Harvard to invest in tax lien certificates
Merritt Island, Florida (PRWEB) March 05, 2014
Ted Thomas show investors to save before tax time-time filing considering tax lien investing wonder if they can handle the process. Ted Thomas, "Americas Tax Lien Investing Authority," enjoys showing new investors how to buy tax lien properties. He demonstrates how easy it is to invest in tax lien homes once they know the steps to take. A video available in the free video training library at TedThomas.com will remove any doubt for hesitant investors. The video follows the story of Darren Olstad, who was a teenager when he first attended a Ted Thomas training seminar. At the workshop, Mr. Olstad discovered the strategies and insider techniques people much older than him use to buy tax lien properties. It was not long before he bought a home in Texas for a few thousand dollars. The real worth? It was appraised at approximately $120,000.
Mr. Olstad shows that even a teenager can follow the systems Ted Thomas lays out in his training. Investors will be happy to know that Mr. Olstad was skeptical about the idea of gaining valuable property at pennies on the dollar. In the video, he shares his personal story of being a high school dropout with no real goals in life when he signed up for the Ted Thomas Workshop Experience. He said a friend of his brought him to the seminar, and he was hooked. Within days, he was buying property in the state of Washington and 11 other states. He teamed up with other investors, and they expanded their investments across the country. The home they bought in Texas was a beautiful red brick home. Mr. Olstad laughed because the alarm was on when he went over to investigate the house himself. He said it was "move-in ready."
"Darren's experience shows that you do not have to be an MBA graduate from Harvard to invest in tax lien certificates and tax deeds," said Mr. Thomas. "You just need to know the steps to take, and when to take them. Every local community is different, and you must know and follow the rules. I show investors the exact steps I take to invest in quality homes all around the country. If Darren can do it at 19 with no experience, others can as well."
Mr. Thomas invites new investors considering tax lien investing to review the video interview with Mr. Olstad at the free video training library at TedThomas.com. At the site, they can also find informative blog posts, news updates, and free guidebooks. All the material is dedicated to showing how to buy tax lien properties. These investments provide healthy rates of return while maintaining a high degree of safety.
About Ted Thomas
Ted Thomas travels thousand of miles every year to train his enthusiastic students in tax lien investing. While tax lien opportunities have been around for over one hundred years, many investors are still not aware of them. Mr. Thomas is on a mission to change that by offering the most extensive video training library on the market.