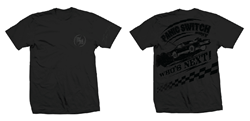 San Clemente, California (PRWEB) March 04, 2014
Panic Switch Army (PSA), Southern California's gasoline-fueled action sports apparel brand is proud to debut a new signature t-shirt in partnership with wrestling legend and notable actor, Bill Goldberg.
PSA and Goldberg will unveil the new t-shirt this Sunday, March 9, 2014 at the Las Vegas Motor Speedway for NASCAR weekend. The NASCAR Sprint Cup Series Kobalt 400 will take place at noon and Goldberg and the Army will be signing autographs and meeting with fans from 9:30 a.m. to 11 a.m. at the NASCAR trackside mobile retail store.
"This is not my first goat roping but I'm in the race on a new horse! Panic Switch Army is forward thinking, creative and cutting-edge," Goldberg said. "When Louis Gregory, of Uncle Louie LLC presented this partnership I was excited to team up with Luke Burrett and Kurt Busch who both have delved into areas that I have experience. A combined think tank of us all will produce cutting-edge clothing for our fans."
Goldberg, a decorated former wrestler, former professional football player and actor, is no stranger to NASCAR and the car scene. He's also a passionate car connoisseur, and owns an impressive arsenal of rare vintage muscle cars including a Mustang Boss 429 "Lawman."
It's Goldberg's fervent love of the automobile and captivating presence that made him a great fit for the Panic Switch Army family.
"He resonates with our NASCAR fans," said Luke Burrett, CEO and founder of Panic Switch Army. "We believe his enthusiasm for automobiles and his world wide star power was a perfect fit for PSA."
About Panic Switch Army
Panic Switch Army Southern California's new gasoline-fueled action sports apparel brand, founded by former Silver Star owners, Luke Burrett and Charis B., is inspired by extreme sports and music that caters to an adrenaline-charged lifestyle.