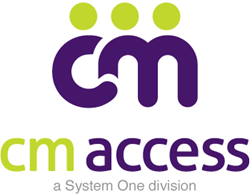 Boston, MA (PRWEB) March 04, 2014
CM Access, a firm specializing in creative, marketing and interactive staffing, unveiled a vibrant new brand identity today, including a re-imagined logo and streamlined website (http://www.cmaccess.com). The launch complements the firm's commitment to generating great work from great relationships.
"We believe that when the right talent connects with the right employer, they both thrive," said Kristin Motta Zwickau, Director. "Our new identity captures the essence of our high energy, high touch approach to working with clients and candidates. More than ever, we're positioned to deliver quality talent across a full range of creative disciplines."
CM Access' new logo introduces a bright color palette of purple and green with a modern font treatment. The forward-looking identity system serves as a springboard for the company's visibility as it expands its services across the national hiring market.
To reinforce its new identity, CM Access also launched a new website at http://www.cmaccess.com, which captures the playful and energetic side of CM Access through a campaign built around custom-designed artistic eggs representing each staff member.
"Because we love what we do and get excited about coming to work every day, we wanted to have some fun with our redesign," said Motta Zwickau. "The eggs convey the message that we're not like every other staffing firm out there!" Visitors can also access the company's open job requirements, blog, and employee and client portal.
CM Access is based in Boston, MA. Its services encompass every aspect of creative, marketing and interactive design, including the design, development and implementation of technology to support corporate strategy. The company is a division of System One, a national provider of specialized workforce solutions and integrated services.
About CM Access
CM Access finds and hires the best creative, interactive, mobile, and marketing talent for clients of all sizes. We believe great work comes from great relationships. When the right talent connects with the right employer, they both thrive. Discover our personal touch and learn more at http://www.cmaccess.com.