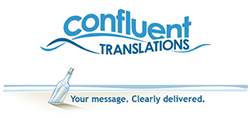 We suggest using the pronunciation guide along with the video.
Pittsburgh, PA (PRWEB) March 05, 2014
The purpose is to help people avoid costly and embarrassing international mistakes. A file is available to download that contains the English, a pronunciation guide and then the actual translation. It is the pronunciation guide that is the most useful when used with the video.
"The statements are clear and simple making them easy to learn and adapt for specific uses," said Charlene Nagy, CEO and President of Confluent Translations. "The English text was specifically written to be used by individuals traveling and for companies conducting international business."
Confluent plans on releasing Spanish, Portuguese and French language training videos in the coming months to go along with the Italian and Russian already posted. All videos will remain on the website for its visitors. "It is the small steps you can make trying to speak in a persons native language that will impress them the most," stated Nagy, "it is the most respectful and profitable way to conduct business globally."
Confluent Translations, LLC is a professional language translation services firm located in Pittsburgh, Pennsylvania which has been in business since 1992. They specialize in medical, technical and legal translations for companies that require ISO 9001:2008 translations and also handle culturally sensitive material for marketing and advertising.