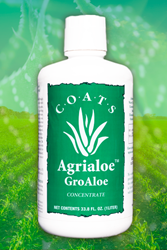 Dallas, TX (PRWEB) March 18, 2014
Coats Agrialoe is proud to introduce GroAloe, a natural soil amendment designed to promote both nutrient uptake enhancement and more efficient water usage.
Developed as an alternative to conventional soil amendments, GroAloe comprises 99.4% organically grown aloe vera gel from whole leaf. Currently, GroAloe is undergoing various USDA-endorsed field trials and generating outstanding results across the board.
This amendment, applied through several methods, utilizes the environmentally safe ingredients found naturally in aloe vera, rather than the chemically created catalysts of competing soil amendments. As a result, GroAloe caters to all levels of agriculture, from commercial growing to home gardening.
Coats Agrialoe was founded by Bill Coats, a leading figure in Aloe Vera research, progress and chemical implementation since 1962. His patent has been used to develop more than 1,000 aloe vera-infused products, including cosmetic treatments, pain relievers and cellular reproduction stimulants. A plant known to deter insects with almost no known toxicity or counter-indications, aloe vera represents more sales than any other herb on earth.
GroAloe is still in the early phases. As field trials, additional testing and chemical modifications continue, look for GroAloe to hit retail later this year.
For additional questions, contact Coats AgriAloe.
(800) 486-2563