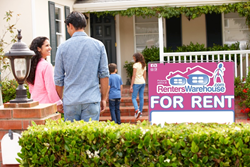 "We're removing the middle man and saving you from the lazy agents. We're getting good people, great properties, at even better prices."
Minnetonka, MN (PRWEB) March 06, 2014
It was announced today that Renters Warehouse, America's professional landlords, is launching its newest venture: RW Realty. Set to challenge old school real estate practices, RW Realty's impressive team of exclusive, hand-selected agents will offer a number of professional services for those looking to buy, sell or rent real estate through smart negotiations and modern technology and marketing.
With the addition of its "Love it or Leave it" guarantee, RW Realty will put their clients first by offering a satisfaction guaranteed policy. Should buyers be unhappy with their home after purchase, RW Realty will re-list the home and sell it for free for up to one year from the date of purchase. For those looking to sell their home, RW Realty offers innovative virtual decorating and staging tools to give potential buyers the ability to instantly personalize homes of interest.
These type of bold moves and unique services have helped Founder and CEO, Brenton Hayden, pave the way to success in all of his real estate ventures. "I founded RW Realty because I wanted to give everyday people the real coaching they need when buying or selling real estate," says Hayden. "We're removing the middle man and saving you from the lazy agents. We're getting good people, great properties, at even better prices."
In addition to launching RW Realty, Renters Warehouse Founder and Chairman of the Board, Brenton Hayden, announced today that he has acquired Zabrocki Real Estate Group Minnesota Division. This acquisition was particularly meaningful to Hayden as his first real estate job was with the Zabrocki Real Estate Group. "Zabrocki was my first jump into real estate," explains Hayden. "That experience taught me many of the skills I have today and I'm thrilled to now own something that had such an effect on getting me to where I am today."
The integration of Zabrocki Real Estate Group Minnesota Division into RW Realty means the influx of all Zabrocki assets, clients, and sales and marketing processes, which was key to the brand's early success. Boasting impressive sales, Zabrocki has helped broker over $280M in real estate transactions since its inception in 2003.
To date, Renters Warehouse have handled over 1.5 billion dollars in real estate transactions since 2005. They currently manage over 700 million in real estate assets. For more information on Renters Warehouse or how to discover exciting franchise opportunities near you, visit RentersWarehouse.com. To learn more about RW Realty and the services they offer, visit RWHQ.com.
Renters Warehouse, founded by Brenton Hayden in 2007, is the fastest growing and most highly reviewed property management company in America, and the largest in Minnesota. The Renters Warehouse team of Professional Landlords is dedicated to helping everyday property owners rent and/or manage their residential real estate with confidence. Not only has Renters Warehouse received the prestigious honor of being included on the Inc. 500 | 5000 list of fastest growing privately held companies in America four consecutive years in a row, it was also named one of the "Best Places to Work" by the Minneapolis St. Paul Business Journal in 2010, 2011, 2012 and one of America's "Best Places to Work" in 2012 by Outside Magazine. For more information on Renters Warehouse's compelling franchise opportunities, visit ProfessionalLandlords.com.
RentersWarehouse.com | @prolandlord | Renters Warehouse on Facebook