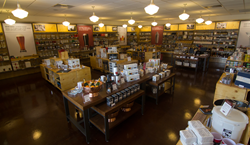 On Saturday, in addition to games, contests, and giveaways, we'll have some local beer on tap, which we'll be offering to customers.
Buffalo, NY (PRWEB) March 04, 2014
This Thursday, March 6th, The KegWorks Store will celebrate one year since their opening on Military Rd. in Kenmore.
The 4,000 square foot retail space is chock-full of "Tools for Drinking," as the KegWorks staff calls it. "It's everything you'd need for a bar, except the alcohol," says David Rivers, KegWorks Owner and President. "From kegerators, custom bars, tap handles, and bar stools, to glassware, homebrewing supplies, and premium cocktail ingredients - if you've seen it in a bar, we have it."
To celebrate their anniversary, KegWorks is holding a three-day sale, from Thursday, March 6 - Saturday, March 8, on bar signs, homebrew ingredients, apparel, and more. "On Saturday, we'll have some local beer on tap, which we'll be offering to customers," says Tim Shisler, the Store's Assistant Manager. "We'll have contests, games, giveaways, and I'm working on getting a food truck here, although that's still up in the air. It's going to be a really good time. We've been excited about this for months."
In addition to the Store anniversary, on March 8th, KegWorks will have a booth at Beerology, the annual beer fest at the Buffalo Museum of Science. They have a double booth at the Buffalo Home Show on March 7-9 & 14-16 as well. Then, on April 1st, their website will celebrate 16 years.
March and April are busy months for the KegWorks crew, but Rivers says they like the hustle and bustle. "It keeps us on our toes," he says.
For more information about The KegWorks Store and their upcoming events, visit http://www.kegworks.com/company/retail-pics.