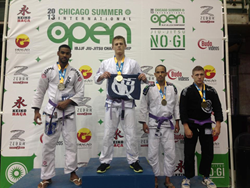 The class is structured the same way that Crazy 88 has their own class set up. I do this because I have seen many different ways to teach people in jiu jitsu, and the most fun and most effective was always our very own- Devon Delbrugge
Baltimore, MD (PRWEB) March 04, 2014
Johns Hopkins University has brought in Brazilian Jiu Jitsu competitor, Devon Delbrugge, from Crazy 88 mixed martial arts academy. Devon is an avid competitor in the sport of Jiu-Jitsu with both Gi and No Gi World Championships titles to his credit. He has now been brought to Johns Hopkins to run their BJJ Club on campus.
Delbrugge has been an instructor at Crazy 88 for three years, but started his training there in 2008. Since then, he has made a career out of jiu jitsu and has become a purple belt in Brazilian Jiu JItsu. He looks to spread his knowledge while teaching at Johns Hopkins.
"The class is structured the same way that Crazy 88 has their own class set up. I do this because I have seen many different ways to teach people in jiu jitsu, and the most fun and most effective was always our very own," Devon added.
The students at Johns Hopkins have said that the past month has been great. With the stress of schoolwork and other activities, they needed something to get their minds off of it. With jiu jitsu, they found that they got the physical workout they have been lacking and having fun at the same time. The club is located on the JHU campus inside of the Ralph S. O'Connor Recreation Center. It runs on Tuesdays and Thursdays from 8-10 PM.
Crazy 88 has multiple locations throughout Maryland, including Howard County, Baltimore County and Frederick County. Delbrugge teaches at:
Crazy 88 - Elkridge
7024 Troy Hill Dr
Suite L
Elkridge, MD 21075
(443) 283-1450