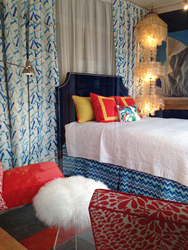 "Pillow Talk is about light-heartedness which is a perfect state for sleep. If people doze off after viewing my work, then I'll have done my job," says interior designer Brian Dittmar.
San Francisco, CA (PRWEB) March 05, 2014
"It starts with a well-made bed," observes Brian Dittmar who designed the bedroom vignette, "Pillow Talk" for McRoskey Mattress Company, a 115-year old family-owned company which recently launched a window display program at its San Francisco showroom. Explains Robin McRoskey-Azevedo, "We are undercover in many bedrooms nationwide, so we partnered with our interior designer clients to show the public how our mattresses fit a variety of styles."
For "Pillow Talk" Brian selected a queen set mattress from McRoskey's best-selling Classic line which features four comfort choices (extra firm, firm, gentle and extra gentle), impeccable workmanship and innovative construction. He remarks, "I consider a bed an investment piece, so only the best will do."
Set around cobalt blue walls and flanked by drapery panels in a bright white and blue graphic print linen by Jonathan Adler for Kravet, the bed is draped in a pure white geometric coverlet paired with a bedskirt in a tonal blue Jonathan Adler fabric reminiscent of herringbone, also from Kravet. Topping it off are boldly-colored accent pillows in bright yellow and hot orange and a small but very lively-hued Trina Turk embroidered lumbar pillow.
Underfoot, Brian used FLOR "Made You Look" 100% recycled nylon carpet tiles in gray, granite, bone and tangerine. The striped pattern – which Brian created with the company's San Francisco showroom – shows off the product's versatility and suitability for contemporary life, particularly in a city where sustainability is also important. As FLOR president Greg Colando notes, "The San Francisco Bay Area market is a good fit because we share residents' commitment to creative, solution-based thinking and earth-aware design."
Eschewing the traditional nightstands he'd originally considered, Brian instead hung a 6' capiz shell fixture on one side of the bed, and on the other side, created a seating area with 1950s vintage Knoll chairs upholstered in Trina Turk floral print fabric and a shaggy, Mongolian lamb-covered 1970s Lucite ottoman. The finishing touch takes up almost an entire wall: a large-scale painting from contemporary realist Jay Mercado's "Pillows" series.
As Brian puts it, "Pillow Talk is about light-heartedness which is a perfect state for sleep. If people doze off after viewing my work, then I'll have done my job."
###
ABOUT:
Brian Dittmar Design is a creative studio offering services for interior and exterior spaces. For more than 15 years, Brian Dittmar has maintained a strong focus: Collaborating with clients to reinterpret classic design with a sophisticated twist for contemporary living. http://www.briandittmardesign.com
McRoskey Mattress Company – Locally made, universally adored. Founded in San Francisco in 1899, McRoskey Mattress Company has enjoyed longstanding success as a local manufacturer and retailer. By employing hundreds of Bay Area residents who have built tens of thousands of mattresses and box springs that provide countless comfortable nights of sleep, McRoskey is truly "embedded" in the community. Using only the finest materials and hand-crafting techniques that have achieved a worldwide reputation, McRoskey has served generation after generation of loyal customers who appreciate a sumptuous night's sleep. http://www.mcroskey.com
VENDORS:
1. Ewing & Ball is a full service custom sewing workroom specializing in custom sewing for interiors, residential and commercial. We emphasize creative solutions, fine detailed sewing and excellent customer service to enable us to fulfill our clients' dreams of creating beautiful environments. We are dedicated to consistently providing the highest quality workmanship and attention to detail. http://www.ewingandball.com
2. FLOR – It all starts with a square. Simply start with one FLOR carpet design square (each is 19.7") and imagine a rug, runner or wall-to-wall design. Our squares can be cut, making any size or shape possible. FLOR squares attach to each without sticking to your floor using FLORdots™, allowing for individual squares to be easily removed for cleaning or to be replaced. FLOR offers you a unique combination of versatility, function and beauty. Our squares are made from 100% recycled nylon fibers, have low VOCs, no off-gassing and are recyclable through our Return & Recycle program. The Made You Look™ style is our big box of crayons - this versatile, cut & loop texture comes in over 70 amazing colors and is designed to coordinate easily with all other FLOR styles. Made You Look™ is made in the USA with 100% recycled nylon. http://www.flor.com
3. Gils Upholstery Inc. started as a one-person operation working out of a garage below our family's home in Daily City, CA in 1985. Moving shop locations over the years into small lofts, available rooms in warehouses and such in San Francisco, we finally found a suitable location of our own in 2008. We are now a six-person shop — including my two sons — on two floors with two sewing rooms, a fully equipped wood shop for furniture building and three upholstery areas. We specialize in custom upholstery and fabrication services for commercial, hospitality and residential projects, including custom-made furniture, pillows, headboards and wall upholstery. http://www.facebook.com/GilsUpholsteryInc
4. Jay Mercado was born in Sioux City, Iowa and raised in San Francisco, California. Through his work, Mercado continues his family's agricultural legacy. His still life paintings are illuminated natural shapes. Out of context and over scale, they are sacred objects from the common ritual of raising crops. Similarly, his paintings of migrant laborers highlight our relationship to the land and to those whose ceaseless efforts produce the food that nourishes our communities. Another area of exploration is the pillow. "It cradles us while we sleep. An intimate sharer of time, it witnesses our dreams and acts as a spectator to loving, fighting, laughing and crying. Therapeutic and healing, it conforms to our needs. A soft symbol of strength, the pillow is a magic cloud of comfort", he states.
Mercado studied painting at UCLA, Art Center College of Design, California College of Arts & Crafts and Academy of Art College. http://www.jaymercado.com
5. Kravet Inc., established in 1918, is the industry leader in the to the trade home furnishings industry. This fifth generation family business distributes fabrics, furniture, wall coverings, trimmings, carpets and accessories. The family's commitment to innovation has helped the company transform from a small fabric house to a global leader, representing brands and designers from all over the world. Kravet Inc. owns Kravet, Lee Jofa, Groundworks and GP & J Baker, all high end fabric houses that specialize in style, luxury and exceptional design. In 2011, Kravet Inc. acquired Brunschwig & Fils, a prestigious decorative house founded in 1900 that shares Kravet and Lee Jofa's legacy of international design, commitment to quality, attention to detail and superb craftsmanship. With locations in North America and worldwide, Kravet Inc. offers the highest level of customer service, quality products and web technology for today's design professional. http://www.kravet.com
###