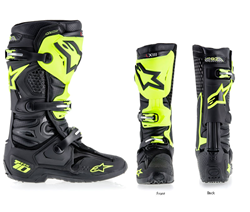 Alpinestars puts a lot of work into producing a boot that is not only comfortable, but very protective.
Thousand Oaks, CA (PRWEB) March 04, 2014
BTO Sports, a premier motocross and dirt bike accessory online merchandiser, recently released the latest motocross boot on the market, the 2014 Alpinestars Tech 10 RV2 limited edition motocross boot. BTO states that it is now even easier to be a champion just like the 3-time Supercross and 5-time Outdoor champ, Ryan Villopoto.
Showcasing two of the most iconic names in motocross, the Alpinestars RV2 boots are often considered a symbol of Ryan Villopoto's pursuit of performance in the sport today. Using the revolutionary design of the Tech 10 as its base, the 2014 Alpinestars Tech 10 RV2 further advances the innovations that make it one of the most technological boots available. The boot's design comes from Villopoto, using his signature black and green color combo and a RV2 logo surrounded by checkered flags at the calf. Customers have said it is one of the greatest motocross boots ever built on the feet of one of the most iconic and influential riders the sport has ever witnessed.
"I've been with Alpinestars for a very long time, since amateurs. It is great to have them behind me" said Ryan Villopoto about the RV2. "Alpinestars puts a lot of work into producing a boot that is not only comfortable, but very protective. Alpinestars has the leading edge and great technology behind their products."
2014 Alpinestars Tech 10 RV2 Boot Features:
o Lightweight upper combines full-grain leather with lightweight microfiber and impact and abrasion resistant TPU shell.
o Innovative, evolutionary TPU shin-plate construction for greater range of fitment features a reinforced Velcro closure for comfortable, highly customized closure.
o Shin zone incorporates TPU blade system engineered to prevent frontal hyperextension and provides greater flex control.
o Evolutionary design for lateral flex zone provides front and rear flexion support and helps prevents torsion.
o Medial-facing panel constructed from TPU with rubber insert for maximum grip contact with bike and improved heat and abrasion resistance. Contoured TPU calf protector plate offers impact resistance.
o Innovative TPU rear blade system protects heel and features a rear hyperextension guard.
o Extensive TPU protection on toes, foot, heel, ankle, calf and shin with extra hard compounds on the toe-box, heel and Achilles tendon.
o New closure system includes polymer buckles plus aluminum frame with innovative self-aligning, quick release closures for customized secure fitment.
o TPU lower shell is reinforced with metal shank and includes toe reinforcement for impact and abrasion resistance. All the buckles are replaceable.
o Soft microfiber gaiter helps seal out excessive water and dirt entry.
o Poly fabric lining with 3D open cell foam incorporates anti-sliding suede reinforcement on heel area.
o Exclusive dual compound sole is seamlessly integrated to the multi-density foot base structure with built-in support; the sole superior durability and grip. The Tech 10 boot is CE certified.
About BTO Sports:
BTO Sports is one of the most popular dirt bike and motocross accessory outlets on the internet. The company is based in Thousand Oaks, CA, and offers a wide range of gear & apparel, including dirt bike parts, dirt bike accessories, MX helmets, motocross apparel (including jackets, pants and jerseys) and much more. BTO Sports is a member of many different consumer advocacy groups, including the Better Business Bureau.