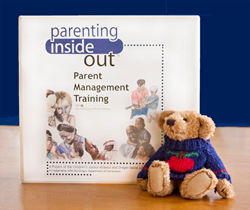 In PIO I accomplished something every week. Now I am part of my children's lives.
Portland, Oregon (PRWEB) March 10, 2014
Parenting Inside Out (PIO), a nationally recognized parenting program for incarcerated and criminal justice involved parents, has been reviewed by the National Registry of Evidence-based Programs and Practices (NREPP) and is now included on the NREPP Web site.
PIO is the only parenting program for incarcerated parents whose development was initiated and co-led by a state department of corrections. In late 2002, the Oregon Department of Corrections partnered with the Oregon Social Learning Center (OSLC) and Pathfinders of Oregon to develop and pilot the program. The program had three key objectives: 1) give parents skills to parent their children from prison and when they return to the community, 2) reduce recidivism through strengthening family connections, and 3) reduce intergenerational criminality.
PIO is a cognitive-behavioral parenting skills training program grounded in the OSLC's Parent Management Training (PMT) program, originally developed during the 1960's and 1970's for families struggling with child behavior problems such as aggression and noncompliance. In recent years, various versions of PMT developed by OSLC researchers have been recognized as "best practice" by several national-level agencies in the U.S., including the Department of Education, the Department of Health and Human Services, and the Department of Justice.
PIO was the subject of a five year, $2.1 million, randomized controlled study (RCT) of 359 incarcerated mothers and fathers funded by the National Institute of Mental Health. Over 40% of participants were racial or ethnic minority, and approximately 50% of participants were women. The study, the largest ever done on a parenting program for this population, followed parents during their final year of incarceration and for one year after their release from prison. Study findings include the following:

At one year post release, PIO participants had a 27% (men) to 59% (women) reduction in rearrest when compared to the control group.
At one year post release, PIO participants had a 95% reduction in self-reported criminal behavior when compared to the control group.
At one year post release, PIO participants had a 66% reduction in self-reported substance abuse when compared to the control group.
During incarceration, the PIO group reported significantly more Positive Parent-Child Contact, had a higher score on the Parent Ease of Relationship with Caregiver measurement at the end of their PIO class, and received more total family visits than did the control group.
PIO is outcomes-based, developmentally-focused, and helps parents promote healthy child adjustment, prevent child problem behavior, and interrupt a cycle of intergenerational criminality. During the PIO program, parents develop and refine social interactional skills and citizenship behaviors they can use in all aspects of their lives and that will help them guide their children toward becoming positive, constructive adults. In the words of one parent, "I had no confidence in myself. In PIO I accomplished something each week. Those little successes gave me the confidence to keep going; I was willing to try something bigger. Now I am part of my children's lives."
PIO addresses the unique situation and issues of criminal justice and systems involved (substance abuse, child welfare) parents and has been successfully implemented in both men's and women's prisons, in county jails and in several community programs in Oregon, California, Kansas, Pennsylvania, Michigan, Illinois, Iowa, Rhode Island, Virginia, West Virginia and Washington. There are three versions of the program: prison, community and jail. More than 10,000 parents have been through the program.
About Pathfinders of Oregon
Pathfinders of Oregon is a 501(c) 3 organization whose mission is to break the cycle of criminality. Pathfinders offers programs within the Oregon Department of Corrections and to the community through its Center for Family Success. Pathfinders sells the Parenting Inside Out program for use in prison and in the community with the U.S. and internationally.
More information about Parenting Inside Out can be found at http://www.parentinginsideout.org or by calling 503-977-6399.