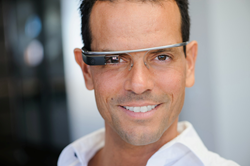 Usability and innovation have always been at the forefront of our technology.
Miami, FL (PRWEB) March 03, 2014
IOS Health Systems (IOS) is the first electronic health record (EHR) company to deploy a native EHR application for Google Glass. IOS has been consistently recognized as a leader in healthcare technology as Medios EHR and Medios PM have emerged as one of the most robust ​and​ user-friendly solutions in the ambulatory care market. The Medios platform is web-based and accessible on any device (iPad, Android, S​mart P​hone, Mac, PC, etc) and any browser, making it remarkably simple for physicians to adopt and use within their organizations.​
IOS announces the release of the Medios-Glass application which​ works directly ​with the ONC-ATCB certified ​Medios EHR software and allows clinicians to​ access patient information such as vitals and medical history directly into the heads-up display. Through the application​, the clinician can quickly interact with important medical information without having to refer to a stationary computer screen, greatly improv​ing the clinician-patient interaction.
Combined with the use of any device such as a ​mobile tablet, iPad, laptop or desktop,​the Medios-Glass feature will allow clinicians to provide care to their patients in a less intrusive, more efficient manner. A recent national survey of ambulatory care physicians using Medios showed that the majority of users are using Medios on a mobile device, which shows the rising interest of physicians wanting to use the latest and most efficient technology available.
"Usability and innovation have always been at the forefront of our technology. The introduction of Google Glass into healthcare opens the door to incredible possibilities for the ultimate experience in clinician-patient interaction," states Andrew Carricarte, President and CEO of IOS Health Systems. "We are proud to once again lead the industry by offering innovative technology that empowers our customers to provide better care."
​​
The Google Glass technology is scheduled to be available for regular ​consumers by Google in late 2014. The IOS Client Services Team is prepared for the strong interest that will be generated for the Medios-Glass application.
IOS Health Systems (IOS) is a privately held health information technology corporation with headquarters in Miami, FL. IOS offers the industry's most innovative cloud-based software platforms for healthcare provider organizations including the ONC-ATCB Certified Medios EHR, Medios PM and Medios Patient Portal. IOS combines industry leading service with high performance software to enable providers to better manage their practices while improving the quality of care for their patients.
Contact IOS at (877) 467-1467 or info(at)ioshs(dot)com. Visit our website at http://www.ioshealthsystems.com.