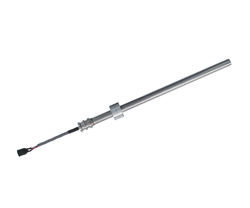 (PRWEB) March 05, 2014
MTS Systems Corporation, a leading global supplier of test systems and position sensors, announced that the Sensors Division has expanded its product line for mobile equipment to include the new Model HE hall effect linear position sensor.
"By offering the Model HE sensor along-side our line of MH-Series linear positioning sensors, we are able to provide equipment manufacturers with a wider range of sensor solutions," explained Luka Korzeniowski, Technical Marketing Manager, MTS Sensors, Mobile Division. "This is particularly important to address applications with lower duty cycles and where pin to pin dimensions are critical."
The new Model HE sensor features hall-effect, non-contact technology and is designed to cover stroke length measurement ranges from 100 to 400 mm. Multiple mechanical packages are available to allow installation into the hydraulic cylinder through both internal and external methods. IP69K sealing is also achievable with the use of MTS's integrated M12 connector system on select models.
"With the addition of the Model HE sensor, MTS offers a larger product portfolio that allows our customers a greater choice for linear position sensing," continued Korzeniowski. "The Model HE will provide customers an entry point to non-contact absolute position sensing with a clear upgrade path to our existing products. We are excited to add the Model HE sensor to our portfolio that offers the performance, reliability and optimized solutions that vehicle manufacturers need to remain competitive and promote ongoing technology advances to their customers."
Additional information about can be found at http://www.MTSSensors.com/MH or by visiting the MTS Sensors booth, 80820, at CONEXPO /IFPE 2014 in Las Vegas.
MTS Sensors is a global leader in sensing technologies and solutions that enable feedback control for automation and safety applications. MTS Sensors, a division of MTS Systems Corporation, serves its global customers with a focus on regional support to provide innovative and reliable sensing solutions. Through its research, development and production of sensing technologies, MTS creates solutions that serve industrial manufacturing, off-highway equipment, liquid level measurement and many other markets. With a diverse and constantly expanding product portfolio, the company is continually working with customers to improve performance and reduce downtime in their operations.