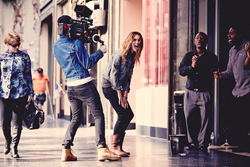 There are so many creative souls out there, and we're happy to be partnering with Jed Root and IMG Models who can offer mentoring, and a fresh eye to find great new perspectives.
Philadelphia, PA (PRWEB) March 04, 2014
Specialty clothing brand, Free People, is teaming up with Jed Root, a global leader in artist management, and IMG Models, a top international model management agency, to launch 'Open Call,' a hunt to find creative talent from across the country. Together, they will scout individuals who are passionate about styling, modeling, and photography to produce and appear in Free People's upcoming e-Catalog launching in June. Each winner will have a once in a lifetime chance to work alongside famed model, Erin Wasson, and a talented team of creative professionals.
In true open call fashion, anyone interested can submit their work at http://www.FreePeople.com/opencall from March 4th - March 31st, 2014. One winner from each category will be selected to be flown to New York City this May to work with the Free People team and a full crew of seasoned artists. In addition to this experience, each will receive personal mentoring from a Jed Root or IMG Models agent to guide them in developing their skills.
"Our brand is built on creative people," says Free People Art Director, Lauren Cohan. "There are so many creative souls out there, and we're happy to be partnering with Jed Root and IMG Models who can offer mentoring, and a fresh eye to find great new perspectives."
To date, Free People has worked with countless big name talents to produce catalogs, lookbooks, videos, and more. David Bellemere, Anna Palma, and Guy Aroch have lensed numerous icons from Sasha Pivovarova and Erin Wasson, to Martha Hunt and Karlie Kloss for the brand. From shoot to shoot, the Free People styling team continually sets new trends and inspires viewers with their endless creativity.
"Like Free People, Jed Root, Inc. has always had a strong commitment to creativity as well as nurturing new talent," says Jed Root, Founder of Jed Root, Inc. "We are very excited to be a part of this project with them. We look forward to seeing the creative submissions and hope we can help discover another new voice in fashion imagery."
"IMG is thrilled to partner with Free People in this unique capacity, and we can't wait to begin the hunt for a fresh new face to work with the brand. This will be a truly exciting career opportunity that will offer priceless experience for the winners of Open Call," says David Cunningham, Vice President, IMG Models.
Winners of 'Open Call' will be contacted in the beginning of April, and officially announced with the launch of Free People's June e-Catalog.
About Free People
Free People is a specialty clothing brand featuring the latest trends and vintage collections for women who live free through fashion, art, music, and travel. The eclectic look consists of quality apparel, shoes, and accessories that invoke attributes of femininity, spirit, and creativity with its design. Free People is distributed globally via direct channels including the Free People Global site and Free People UK site, as well as specialty boutiques, top department stores, and the brand's free standing retail locations in the U.S. and Canada.
About Jed Root, Inc.
Jed Root, Inc., founded in 1989, is one of the leading artist agencies in the world with its family of fashion photographers, makeup artists, hair stylists, fashion stylists, illustrators, prop/set designers, manicurists, and directors. Jed Root has helped bring great success and international esteem to hundreds of artists over the past three decades. To date, Jed Root has offices in New York, London, Paris, Los Angeles, Manila, and Tokyo, with hundreds of clients in the realm of fashion, beauty, and commercial advertising.