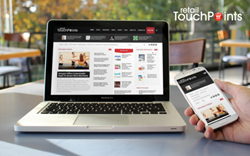 (PRWEB) March 03, 2014
Retail TouchPoints (RTP) has announced the launch of Retail TouchPoints 3.0 — a multi-media, interactive web site offering the latest breaking industry news and trends, exclusive research, compelling thought leadership insights, retailer success stories and much more — at http://www.retailtouchpoints.com.
With more than 40,000 social media followers and weekly newsletter readership topping 28,000, RTP continues to evolve as the go-to destination for the latest trends on how retailers can improve the customer experience while boosting the bottom line.
"We are very proud of this new site and look forward to sharing it with our growing readership and followers," said Debbie Hauss, Editor-in-Chief of Retail TouchPoints. "This new site shows the breadth and depth of our coverage and industry expertise, as well as our forward-thinking utilization of the latest digital and interactive site components."
The new site offers a host of new features including:

Retail News Hub: Navigate the state of retail trends with breaking news briefs, executive appointments, mergers & acquisitions, financial news, new product offerings.
TouchPoints TV Videos: Video continues to be a major content focus on the RTP site.
Hear from retail executives who invite us into their stores to share insider information; learn from industry experts on the current state of retail; and watch interviews with solution providers discussing new and upcoming advances in technology.
Customized Experiences: The new web site will suggest related content based on individual reading habits, making the online experience more personalized, productive
Responsive Design: Optimized for mobile devices, the new site will keep you connected with a great user experience whether it is on a tablet, smartphone or desktop.
Trend Watch: Uncover unique insights and viewpoints on the latest industry trends.
Content Resources: Visitors have access to a variety of white papers, E-books, infographics and web events that are focused on all aspects of the customer-facing
Exclusive Reports & Research: Each month, RTP will take a dive into new trends and uncover important statistics and insights from retail executives and the consumer
Retail TouchPoints is an online publishing network for retail executives, with content focused on optimizing the customer experience across all channels. The Retail TouchPoints network is comprised of a weekly newsletter, special reports, web seminars, exclusive benchmark research, an insightful editorial blog, and a content-rich web site featuring daily news updates and multi-media interviews at http://www.retailtouchpoints.com. The Retail TouchPoints team also interacts with social media communities via Facebook, Twitter, tumblr and LinkedIn.