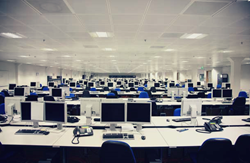 Los Angeles, CA (PRWEB) March 04, 2014
Commercial Movers, a respected residential and commercial moving service based in Los Angeles that provides moving services across all 50 states, is pleased to announce that they will be launching a free checklist for moving office computers. The checklist will be published on their website as a courtesy to all customers and online visitors. The intended goal of the checklist is to provide viable information for any person or entity that's moving computers – which are highly fragile and susceptible to damage when improperly packaged for a move.
Each year countless businesses and millions of people relocate across the country, resulting in untold amounts of damage to fragile items like glassware, fine art, valuables and computers. By taking a few precautions ahead of time when moving office computers, it is possible to drastically reduce or outright prevent these devices from sustaining any damage. The goal of Commercial Movers releasing this guide is to help instruct people on how to safely and properly package their computers for relocation to avoid damage.
"One of the most commonly damaged items we've encountered is in fact computers," said company spokesperson, Tom Pinkus. "Most of the time the computers are improperly packaged and that is what causes them to become damaged during the move. We hear complaints about monitors no longer being recognized by desktop computers because the VGA port was pressed in by pressure during the move. As commercial moving experts, we always try to encourage our customers to be progressive with packing their sensitive items. The goal of this checklist will be to provide yet another invaluable resource for our customers—which they can utilize to more effectively procure timely office relocation while avoiding damage to their sensitive PCs."
About
Commercial Movers is a moving company located in Los Angeles, California. The company provides commercial and residential moving services across all 50 states as well as international moving, packing and crating services, fine art shipping and piano moving services. In recent news, the company has announced that they will be publishing a guide on their website that will be freely accessible by all visitors, detailing how to safely package office computers for a move.
You can learn more about their services by visiting Commercial Movers online.
Press Contact:
Tom Pinkus
Commercial Movers
(424) 238-2070