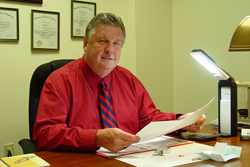 I am pleased to have Michael as part of the core Claimlink team and launch the Pennsylvania office.
Red Bank, New Jersey (PRWEB) March 05, 2014
Alan Fisher, owner of Claimlink Jewerly Replacement has teamed with Michael Potts, former owner of Gem Pro Jewelry Replacements, LLC, to expand his New Jersey-based jewelry replacement operation to Pennsylvania. Together, the two bring a total of more than 80 years of expertise to the jewelry assessment and replacement industry. Potts will run the Pennsylvania operation as director of business development, responsible for working with insurance companies, providing quote and replacement support and providing informative seminars to insurance company staff in the area of jewelry claims.
"I am pleased to have Michael as part of the core Claimlink team and launch the Pennsylvania office," said Fisher, who also has owned and operated A.H. Fisher Diamonds in Red Bank for 30 years. "Michael's background and experience in the jewelry replacement industry makes him an asset to Claimlink," he added.
Potts, who came to the U.S. from his native England in 1973, got into the jewelry business through a chance encounter with Harry Gordon, then president of Gordon's Jewelry, when Potts was managing a restaurant where Gordon was dining. After striking up a conversation, Gordon asked what Potts knew about jewelry and invited him to meet. "I went to work for him within a week. He sent me to school – to the Gemological Institute of America, and flew me to Houston for three weeks at Gordon's headquarters. Potts remained with Gordon's for three years and then joined JE Caldwell, a "top-shelf" independent jewelry firm that served the likes of the DuPont family among other notables. He remained with the company for nine years. After a brief departure from the jewelry business, Potts returned to it and, when his employer retired and closed his business, Potts reopened it as Gem Pro LLC.
Knowing Fisher by reputation, Potts contacted him and the two met recently. "I was drawn to Alan because of his excellent reputation in the industry. He is very highly regarded, honest and knowledgeable," said Potts. "When I decided to close my business, I decided if you can't beat the competition, join them," he laughed. Fisher also knew of Potts and saw this union as a perfect opportunity to open a Claimlink office in Pennsylvania. "He has quite a following, outstanding experience, and knowledge of the business. I see this as a win-win opportunity," said Fisher.
Potts said that getting accurate jewelry appraisals is key for the insurance industry. "What we do for the insurance companies makes the difference in turning a very stressful and sad experience, (losing a treasured item) into one that the insured will feel comfortable and totally satisfied with, and they will feel that their insurance company has handled the claim quickly and honestly," said Potts. Pairing with an expert like Fisher, he said, will also ensure what the claimant and insurer expect of replication – that it be the same "like, kind and quality."
He also has an art background and works with claimants to sketch the lost piece in order to make the replacement jewelry as close to a perfect replica as possible. He recently worked with a woman whose newly-given engagement ring was stolen. "She was devastated. She had been engaged for about two months and the ring was beautiful, custom designed with intricate petals and leaves, a very fine design. I talked with her every week and sketched and re-sketched the ring. When we presented her with the replacement, she was so happy that she burst into tears," Potts reminisced. "It's often a happy ending for both the claimant and the insurance company," he added.
So, why is the business of jewelry replacement so important to the insurance industry? "Insurance underwriters often accept jewelry owners' appraisals at face value because they aren't trained in recognizing the value of gems and metals. We are able to determine actual value and save them money. We go to insurance underwriters' seminars and inform them about how to reduce costs of loss and replacement and why underwriting is so very important when it comes to jewelry."
"I'm looking forward to working with Alan and Claimlink. I think it will prove to be a successful opportunity," Potts concluded.
Fisher has been sharing his experience in jewelry replacement for more than 30 years and is seen as one of the nation's leading diamond experts. He is listed in Best's Directory of Recommended Expert Service Providers and his Claimlink is one of the first jewelry replacement companies in the nation with a network of more than 1,000 locations nationwide
.
Alan can be contacted at 800-537-4700 or alan@claimlink.com. Michael can be reached at 215-512-0046 or michael@claimlink.com.