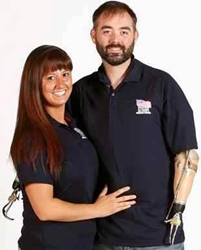 We appreciate this opportunity to support and bring attention to such a worthy cause.
Andover, MA (PRWEB) March 04, 2014
Effective Student Marketing, a higher education marketing agency located in Andover, has become a proud sponsor of the 5th annual Run for the Troops 5K. The community road race, to be held on Sunday, April 6th, raises funds for local veterans in affiliation with Homes for our Troops, a national nonprofit organization committed to housing disabled and injured veterans.
Proceeds from this year's race and a corresponding benefit dinner on Friday will help build a specially adapted home for Army Staff Sergeant Matthew DeWitt of Concord, NH. DeWitt lost both his arms when he and members of the 4th Battalion, 64th Armor Regiment, 3rd Infantry Division came under enemy attack in Iraq.
The father of two enjoys cycling, mountain biking, hunting, and spending time with his family. An avid gardener, DeWitt hopes to start a farm or nursery business someday. He is also training to compete on the Paralympic cycling team. He and his wife Catrina look forward to living in a specially adapted home where he can live independently.
"Having a house that is built around my needs so I can have an easier time doing day-to-day things will help ease some of the stress and frustration that comes from having a severe disability for me and my family," said DeWitt.
In the past three years, the annual Run for the Troops 5K has helped build homes for military members Army Sergeant Joey Smith, Marine Sergeant Joshua Bouchard and Marine Sergeant Kevin Dubois.
Effective Student Marketing is sponsoring the race and an associated dinner on April 4th at the Wyndham Hotel in Andover, Massachusetts. In addition to lending its financial support, Effective Student Marketing expects to have a strong showing of its staff on race day. President Andy Kelley said his company's contribution pales in comparison to what the men and women of the military do for our country every day.
"We appreciate this opportunity to support and bring attention to such a worthy cause," said Kelley. "Matt suffered a devastating injury and the very least we can do for him as a community is to acknowledge his sacrifice in a meaningful way."
This year's race begins at 9:00 AM at 36 Bartlett Street. Awards will be presented to winners across age categories and the first 1500 to register will receive technical t-shirts. There will be live entertainment and refreshments. To donate or register, go to http://www.RunForTheTroops5K.com.
About Effective Student Marketing, Inc:
Effective Student Marketing creates, monitors, and manages online marketing campaigns for higher education institutions. Our team stays on top of the latest tactics and trends and constantly tries out new strategies for clients, to help schools achieve their student recruitment and retention goals. In addition to online marketing, Effective Student Marketing offers a range of services including social media management, search engine marketing, content creation and distribution and reputation management. You can find more information about their services at effectivestudentmarketing.com.