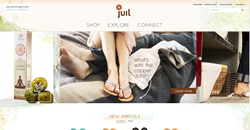 'At Juil, we aim to bridge that gap and explore, with our customers, the simple connections and lifestyle changes that can make a drastic change on our overall health and well being.' - David Gelfand, Juil's Director of Digital Marketing Strategy
Mequon, WI (PRWEB) March 10, 2014
Juil, a leading footwear brand in the health and wellness movement, has announced the unveiling of their newly inspired website. As a piece of their rebranding and redesign efforts, the new website aims to improve their customer's shopping experience. By allowing for easy navigation and access to wellness-inspired content, Juil.com continues to expand its lifestyle presence and inspire those consumers seeking to simplify their lives naturally and holistically.
The Juil brand was launched almost three years ago with the goal of educating its consumers about the multitude of health benefits associated with going barefoot. In the science world, this phenomenon is becoming known as earthing or grounding.
"Within the ever-changing world of science and the advent of technology growing rapidly, people lose sight of what's available to live a natural, healthy lifestyle. At Juil, we aim to bridge that gap and explore, with our customers, the simple connections and lifestyle changes that can make a drastic change on our overall health and well being," said David Gelfand, Juil's Director of Digital Marketing Strategy.
Three years later, Juil is announcing the release of their new website. After being unsatisfied with their branding and message delivery, Juil partnered with New York-based Acadaca, a leading web design firm specializing in customized ecommerce strategy, to re-create the Juil e-commerce experience. Together, Juil and Acadaca have designed an innately intuitive website, offering visitors the opportunity to learn, shop, and share.
Keeping user experience and user choice in mind along the way, Juil.com was designed using the industry's latest technology for view ability and a common sense approach to a user's shopping experience.
Recognizing the increased mobile shopping presence within the consumer market, Juil ensured that their website would be responsive to all screen sizes, allowing for a user friendly experience on-the-go. Shoe design, color filters, product specifications, and concept explanations are all accessible by the click of one's finger – not just a mouse.
Gelfand explains that, "The goal was to make things more intuitive overall. Having all shopping information readily available wherever the customer may be creates a fluid experience for the online shopper. The customer knows what he or she wants – we've just made it available for them."
To maintain their focus on education, Juil dedicated a strong portion of their redesign on creating what is now known as their EXPLORE section. The EXPLORE page presents itself as a detailed, interactive, and explanatory section on the wellness trend of earthing and grounding. By utilizing parallax scrolling, the EXPLORE page takes a visitor on an educational journey – learning about the toxins rampant in the world around us, to understanding the principles and benefits of reconnecting with the earth.
Asked about the EXPLORE project, Juil's Director of E-Commerce, Bobby Kanter, went on to say that, "The page ended up being a micro-site within itself. It's 100% unique, haven't seen anything else like it. In our day and age you have to separate yourself and move yourself ahead of the pack. We've done this by discovering a unique and awesome way to communicate our equally unique and awesome story."
The lifestyle brand, redesign efforts continue as Juil optimizes its site and shopping experience. As the wellness trend of earthing and grounding continues to gain traction in the fashion and spa industries, Juil is confident that customers will find the resources and accessories they're looking for available to them at Juil.com.