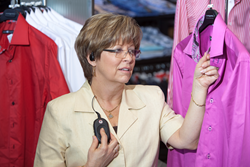 Across the retail environment—including online, mobile, and in the store—technology solutions are helping retailers enable and improve every aspect of the shopper's experience.
Dallas, TX (PRWEB) March 06, 2014
BearCom, a nationwide provider of wireless communications equipment and solutions, today recapped a recent study from Motorola Solutions highlighting how retailers' investments in technology lead to improved in-store experiences for customers and higher sales for retailers.
The seventh annual Motorola Holiday Shopping Study detailed the links among technology equipped retail workers, improved customer experience, and increased sales. Among the findings relating to customer satisfaction and loyalty include:

Service: Despite advances in self-service, many shoppers still expect assistance from store associates, including answers to questions and fast checkouts.
Satisfaction: 80% of store associates agree that improving communication among staffs and managers has "a significant positive effect" on customer satisfaction.
Loyalty: Asked if they would buy 50% more merchandise from a retailer that provided better customer service, 45% of shoppers said yes.
"Across the retail environment—including online, mobile, and in the store—technology solutions are helping retailers enable and improve every aspect of the shopper's experience," Motorola said in announcing the study results.
Perhaps no technology is impacting in-store experiences more than two-way radios. Industry leader Motorola manufactures two series of radios that are especially well suited for retail environments.
The Motorola CLS Series two-way radios are simple, rugged, reliable, and economical, with intuitive controls that are easy to use. They are versatile, so they can fit any workplace, any budget, and any style. The Motorola CLS1110 and Motorola CLS1410 are very affordable and don't require the use of a speaker-microphone.
The CLP Series two-way radios from Motorola are even smaller and lighter, and they include an earpiece that offers more discreet communications. Because the Motorola CLP1010, Motorola CLP1040, and Motorola CLP1060 include only the essential elements, they are easy for workers to operate. Plus, the compact, stylish design fits well into retail environments. Detachable faceplates can be custom-branded with company colors or logos. For larger stores, they can be integrated with repeaters to improve range.
"Retail organizations considering investing in two-way radios should look for models that are easy to learn and simple to use," said Hugh Johnston, Product & Purchasing Manager at BearCom, the nation's largest dealer of two-way radios. "I highly recommended the Motorola CLS1110 and CLS1410, as well as the Motorola CLP Series, which includes the CLP1010, CLP1040, and CLP1060."
Johnston said, "Retail organizations often ask about the return on their investment in two-way radios. We tell them that if a radio can help a minimum-wage employee save just five minutes an hour, that employee's CLS or CLP radio will pay for itself in just six to eight weeks. In addition, better communication can assist with loss prevention programs."
For more information about Motorola CLS and CLP Series two-way radios for retail stores, please visit http://www.BearCom.com or call 800.527.1670.
About BearCom
BearCom provides a broad line of high-performance wireless communications products, services, and complete mobility solutions. Founded in 1981, BearCom is America's only nationwide dealer and integrator of wireless communications equipment, serves customers from 26 branch offices located throughout the U.S., has several affiliated offices around the world, and employs approximately 400 people. BearCom is headquartered in the Dallas, Texas area. For more information, visit http://www.bearcom.com/.
MOTOROLA, MOTO, MOTOROLA SOLUTIONS and the Stylized M Logo are trademarks or registered trademarks of Motorola Trademark Holdings, LLC and are used under license. All other trademarks are the property of their respective owners. ©2014 Motorola Solutions, Inc. All rights reserved.