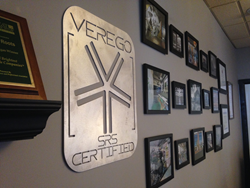 'I am excited to be a part of the Verego Steering Committee and the prospect of working with other industry peers to further guide and influence the evolution of the Verego Standard to meet my long term CSR strategic needs.' - Mike Simms, CPO Microsoft
Northville, MI (PRWEB) March 05, 2014
Verego LLC., a global standard, assessment, consulting and certification firm focused on Corporate and Social Responsibility, announces the formation of the Verego Steering Committee, a multi-industry group of executive Thought Leaders from global organizations. These executives bring a broad range of expertise in sourcing and procurement and/or Corporate Responsibility and Sustainability. Members represent global organizations:
o Kellogg's
o Microsoft
o American Red Cross
o MolsonCoors
o Herman Miller
o Johnson & Johnson
o JetBlue Airways
o Bertelsmann
o Michigan State University
o CBS EcoMedia
The Inaugural meeting of the Verego Steering Committee was held on January 14, 2014 to discuss challenges and share best practices in key areas of Corporate and Social Responsibility, A key objective of the Verego Steering Committee is to shape the evolution of the Verego Social Responsibility Standard (Verego SRS) in order to help achieve Verego's vision of uniting the global economy to promote the responsibility movement.
Cliff Moore, Chairman and co-founder of COPC Inc. and Verego, and a recognized expert in standards and certification added, "The Verego SRS Standards for buyers and suppliers provide a comprehensive framework for implementing robust approaches for achieving excellence across the key Corporate and Social Responsibility areas and increasing shared value."
About Verego LLC.
Verego was founded in 2013 and is already emerging as a leader in Corporate Responsibility assessment, consulting, and certification services. Verego's certification services benchmark organizations against the Verego SRS in order to identify gaps and prioritize improvement actions. The Verego SRS is specifically designed to the most approachable, yet scalable framework for organizations of all sizes to adopt leading practices in Corporate and Social Responsibility. Verego's consulting services support organizations through the development of shared value strategies and Sustainability performance management systems that guide the creation of stakeholder driven Sustainability reports. For more information about joining the responsibility movement, visit http://www.Verego.com or @Verego.