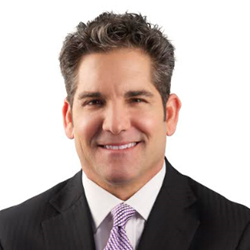 'Everything in life is a sale and everything you want is a commission.' -Grant Cardone
Miami Beach, Florida (PRWEB) March 05, 2014
Grant Cardone's 2013 Axiom Award winning book "Sell or Be Sold" is now available as an audiobook. The book originally written as a self-published title back in 2008, then titled "Sell to Survive" was quick to gain the attention of Wiley and Sons who published it as Sell Or Be Sold with six additional chapters. After much anticipation from fans of Grant's other titles including New York Times best seller, "If You're Not First, You're Last, Grant answered their demand with the release of the Sell or Be Sold audiobook. It can be purchased on http://www.grantcardone.com.
Sell or Be Sold explains how selling is an integral part of life, regardless of what profession a person is in. Readers come away with very simple concepts that they can use confidently and successfully to sell others on themselves, their ideas, and their products. The international sales expert and successful entrepreneur offers step-by-step success strategies and makes the reader understand that everything in life is a sale and everything they want is a commission.
According to Cardone, knowing the principles of selling is a prerequisite for success of any kind and the book provides techniques and approaches necessary to master the art of selling. Cardone was inspired to write the book during the economic crash of 2008 to help people not just survive, but also thrive during volatile times. Given his experience and expertise in sales, Cardone believes the ability to sell offers people an entrepreneurial approach to unlimited income.
"In 2008 after the Lehman's collapse, I knew the world economy would be forever changed and the impact would be devastating. I wanted to help people understand how they not only could just survive, but also thrive during this new economic climate. It was the first book I wrote and I remember information was just flowing out of me. I've been in business as an entrepreneur and a salesperson for so many years that every speech, every meeting, every bit of advice I ever offered, just came pouring out of me and onto paper. I wrote it in three days. That book led me to write three others and I'm working on my fifth book now. It changed the game for me and for my business," explains Grant Cardone.
The Sell or Be Sold audiobook adds Grant's dynamic, straight-shooting, conversation style and truly entertains as it informs. In addition, Grant offers personal perspective and deeper detail that really drives his many points home. Today people want audiobooks that not only provide the necessary tools for success, with specific strategies, actions, ideas and plans for achieving specific goals. They want something that keeps their attention and is impactful and memorable.
In 2013 the books was translated into Spanish as Vendes o Vendes along with an entire seminar in Monterrey, Mexico. "The simple yet powerful principals in Grant's book, Sell or Be Sold drove me to create an entire conference for the business owners of Mexico. The book changed my life and led to a great opportunity to lead Grant's expansion efforts in Latin America," offers Allen Hernandez, CEO of Grant Cardone Latino America.
Sell Or Be Sold offers critical information applicable to any business or life situation where negotiation, persuasion and people skills are of high value for success. Cardone offers tips and insights on The Power of Prediction, The Importance of Agreement, Establishing Trust, The Price Myth, The Perfect Sales Process and much more.
About Grant Cardone
Grant Cardone is a New York Times best-selling author, international sales and business expert, speaker, executive producer and star of the reality TV show Turnaround King, and host of the Cardone Zone radio show. Grant is regularly seen on CNBC, Fox, Fox Business, offering insights on business, financial and social issues and contributes to publications including Huffington Post, Business Insider, Entrepreneur, and Forbes, Inc. He is the author of four books (listed below) all written since the 2008 financial crisis:
1. "Sell or Be Sold," (2012) How to Get Your Way in Business and In Life.
2. "The Closers Survival Guide" (2009) the ultimate guide to completing the sale.
3. New York Times bestseller "If You're Not First, You're Last" (2010) Sales Strategies to Dominate your Market and Beat your Competition.
4. "The 10X Rule," (2011) The Only Difference Between Success and Failure