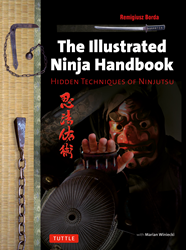 "Beautifully and thoroughly illustrated, Remigiusz Borda's work is a delightful compendium of history, terminology, and concepts…a reference point for both beginners and experts in ninja lineages worldwide."—Kevin Keitoshi Casey, author, The Ninja Mind
North Clarendon, VT (PRWEB) March 05, 2014
The Illustrated Ninja Handbook is the ultimate guide to the esoteric knowledge and teachings of ancient Japanese ninja masters. It provides the ninjutsu devotee with the first detailed understanding of this shadowy and mysterious martial art form.
This handbook contains step-by-step instructions that allow the reader to master 40 of the most devastating ninja fighting techniques. It was created with the blessing of legendary ninjutsu master Soke Masaaki Hatsumi, who taught for many generations in the Bujinkan School – generally recognized as the leading ninjutsu school in the world.
The Illustrated Ninja Handbook is based on hundreds of years of actual ninja combat experience and contains the traditional knowledge of the legendary Shinobi warrior clan who were instrumental in helping found the Tokugawa Shogunate.
Available for the first time in English, this book releases on March 18 and can be pre-ordered online at Tuttle Publishing or Amazon.
ABOUT TUTTLE PUBLISHING
Established in 1948 by Charles Egbert Tuttle Jr. in Rutland, Vermont and Tokyo, Japan, Tuttle Publishing is the premier publisher of English language books on Asian culture. Today, Tuttle maintains an active offering of books on a wide range of topics, including Asian culture, Asian literature, Asian architecture, Eastern spirituality, gardening, cooking, martial arts, crafts, travel, health and wellness, and fine art for a worldwide audience. For more information, visit http://tuttlepublishing.com.
ABOUT THE AUTHOR
Since the age of nine, author Remigiusz Borda has been involved with various martial arts disciplines including Judo, Shotokan Karate, and Jujitsu. He's also studied and taught Bujinkan, the leading school of ninjutsu, for many decades.