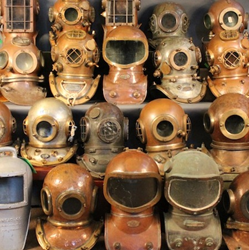 Boston, Massachusetts (PRWEB) March 06, 2014
Highly sought after deep sea diving gear to be sold at Boston Harbor Auctions on April 5th & 6th. The collection is from the late Tom Hering, hard hat diver and diving enthusiast, extraordinaire.
Over 25 hard hats will be auctioned, some dating to the early 1900s, with names including Morse, Miller Dunn, Desco, Schrader, Siebe Gorman, Heinke and others. Some are expected to bring, $20,000 and more.
These hard hat dive helmets are highly sought after and this is a choice group with many rare models. Divers would don these 50+ lb helmets with a suit, weight belt and dive boots totaling 200 lbs. and submerge with an air hose for ship repair, marine construction, exploration etc... Never before has so much choice diving kit been sold in a day.
Masculine fresh-air pumps that would supply oxygen to the diver's with hand operated iron flywheels will be of interest to history buffs. Other diver's "kit" selling are 20 pair of weighted diving boots, vintage leather weight belts with attached lead weights, canvas and rubber diving suits, diving knives; an auction that diving collectors will talk about for years. Perhaps the most extensive diving and marine salvage library ever assembled will be sold in huge lots because there are thousands of volumes.
In addition to the diving collection an alluring collection of gleaming nautical antiques and 40 ship models will be auctioned.
Tom Hering (1950-2011) was a hardscrabble character and second generation hard hat diver and the son of Martin Hering a member of the salvage team of the 17 month project to refloat the French ocean liner Normandie on the Hudson River that completed in 1947.
Not only did Tom have an incredible hard helmet and diving equipment collection, he also, in his lifetime, managed to assemble an amassment of anything diving related, from magazines, to children's books, toys, jewelry, pamphlets, rare reference aids that impressed all who have witnessed it thus far.
Auction's first session begins 11 am April 5th. The second session begins at 11 am on April 6th.
185 Purchase St. Boston, MA 02110
Visit bostonharborauctions.com for full catalog info.