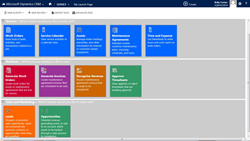 Our most successful customers know that field service processes cannot exist in isolation.
New Berlin, WI (PRWEB) March 04, 2014
WennSoft today delivered the latest version of WennSoft Evolution®, its CRM-based field service solution. Designed to redefine how field service organizations connect and work, the new version is built on Microsoft Dynamics CRM 2013 and available immediately in the Americas, Australia, New Zealand, and Western Europe.
This release delivers a complete field service solution with a new user experience, fully configurable customer portal and mobile applications, as well as drag and drop scheduling capabilities for customers who install, maintain and repair equipment and assets. Evolution 2014 will help users deliver remarkable, profitable service wherever they are and whatever work they're doing.
The 2014 release is yet another powerful example of how WennSoft delivers on its vision to help its customers become successful by providing industry-leading field service solutions that serve as a catalyst to help drive their businesses ahead.
"Built on Microsoft Dynamics CRM 2013, Evolution is foundational for fully connected field service businesses, giving everyone in the organization access to the information they need and the solution they want to deliver remarkable service to customers across a wide variety of industries – including specialty trades and construction, energy, oil and gas, power generation and utilities," said WennSoft President, Julie West.
New user experience is designed to drive up end user productivity

Customizable launch pages for all users in your organization take the best of Microsoft Dynamics CRM design and ensure your users can tailor the experience to fit their work. If their work changes – no problem – it can easily be re-configured.
Evolution 2014 is designed for "the everywhere office." Whether your work is in the office, at home, or in the middle of places even cell service can't find you, you've got access to the information needed to complete the work and then sync when you can, helping ensure your team stays connected with the most current information and that accurate invoices go out on time.
With a fully customizable online portal, your customers' experiences, and other audience experiences, can be tailored to your and their requirements. Your team can ensure customers feel connected 24x7 and the end result is customer loyalty.
A Partner with Expertise and Vision
WennSoft has deep industry and customer experience offering the solutions, best practices and community our customers need to ensure success.
WennSoft field service solutions are available on premise or in the cloud, and scale as your business grows, backed by our Last Solution Guarantee (http://www.wennsoft.com/last-solution-guarantee.aspx)
"Our most successful customers know that field service processes cannot exist in isolation," said West. "Accessing, utilizing and sharing data across systems is a must to get a holistic view of the business. They recognize the value of connecting business management capabilities (like Dynamics) to Evolution field service because they gain a complete service solution in a single technology platform. That's what Evolution 2014 delivers and we believe it sets the standard for connected business."
WennSoft Evolution Availability
WennSoft Evolution is a complete solution for organizations or divisions focused on work order management, asset management, installation, field service and maintenance. It serves asset centric organizations in the commercial market as well as public sector.
WennSoft Evolution is available today from WennSoft and WennSoft partners. Customers have the choice to deploy their entire WennSoft solutions on-premises, or in the cloud. Customers can also license solutions perpetually or through a subscription model.
About WennSoft
Founded in 1995, WennSoft delivers innovative field service solutions that streamline operations, arming customers with the insight they need to do their work more proactively, productively and profitably. WennSoft serves customers worldwide both directly and through a global network of local partners. WennSoft has headquarters in New Berlin, WI, with other offices in the US and the Netherlands. For more information about WennSoft, visit http://www.wennsoft.com.