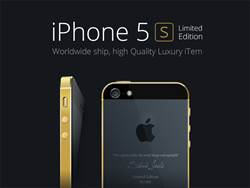 Blending Apple's latest iPhone technology with luxury detailing and creative inspiration, this collectible Apple phone is the quintessential statement piece.
San Francisco, CA (PRWEB) March 17, 2014
The California-based, digital development company GineeX Studio announced today that it is releasing an elite, limited edition iPhone 5s to the public for pre-order. Commemorating the legendary Apple co-founder Steve Jobs, the collectible 18k gold-trimmed iPhone 5s costs $2,999, includes complimentary worldwide shipping and is available in two popular finishes.
"We are proud to honor the Apple founder's creative and innovative legacy with this beautifully detailed iPhone 5s," says GineeX executive Dmitry Cheney. "As a technology-based company ourselves, we appreciate the gifted visionary genius of Steve Jobs and are delighted to offer this commemorative iPhone 5s to others who treasure his legacy."
With the state-of-the-art iPhone 5s technology as its base, the GineeX Studio mobile device is edged in lustrous 18k gold and offers a choice of an elegantly complementary black or gray finish. The phone features the beloved Jonathon Mak tribute Apple logo and Steve Jobs' rarely seen signature. It is also inscribed with Jobs' iconic quotation that classically captures his unwavering drive and unerring devotion to minute details: "We've got to make the small things unforgettable."
"Those words, that dedication to innovation and that flair for aesthetics inspires us daily at GineeX Studio, and we believe that many other visionaries, creators and professionals will be energized by that sentiment as well," said GineeX Studio's Cheney. "We are proud to release this exclusive iPhone 5s this month, particularly as February marks the technology leader's birth."
The GineeX Studio iPhone 5S also bears the touching Jonathon Mak tribute logo that became a worldwide sensation at the time of Jobs' passing. Inspired by the Apple co-founder, Asian design student Jonathon Mak adapted the iconic Apple logo by replacing the "bite" mark with Steve Jobs' silhouette. Although created months before Jobs' death, the sentimental logo swiftly spread around the globe after the technology giant's death. GineeX Studio includes the now-famous version of the logo as part of the elegant phone's commemoration of the legend and an one-of-a-kind feature.
"Blending Apple's latest iPhone technology with luxury detailing and creative inspiration, this collectible Apple phone is the quintessential statement piece," Cheney noted. "In this day, it's unusual to be able to own a rare piece of history and technology for less than $3,000, but we are able to provide that exclusive access with the limited edition phone."
With 32 gigabytes, the lightweight phone is activated with Apple's pioneering Touch ID fingerprint identity sensor, ensuring the phone's security and safety. The Touch ID scan unlocks all of the significant power and countless features of the new mobile device, including vastly accelerated graphics performance, an improved iSight camera, super-fast wireless Internet connections and the new iOS 7 features.
Only 500 of GineeX Studio's commemorative iPhone 5s mobile devices are in production, and each is numbered with its place in the series to preserve its value and exclusive character. Phones ship around the world free of charge and are currently available for pre-order at http://iphone5s.gineex.com/.
For more information about the new gold-trimmed, limited edition iPhone 5s, contact GineeX Studio at info(at)gineex(dot)com or call 415-509-6579.