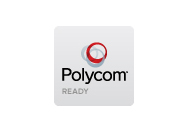 "We're excited to team with Polycom to provide video customer engagement solutions that not only allow Polycom customers to improve the way they currently interact with their customers, vendors and patients." -Alfredo Ramirez, President and CEO of Vyopta
Austin, Texas (PRWEB) March 04, 2014
Vyopta Incorporated, the cloud video applications company, today announced that it has teamed with Polycom, Inc. to deliver next-generation video customer engagement solutions for Polycom environments. Vyopta will integrate Polycom video technology into customer business processes and operations, enabling organizations to deliver new levels of customer, vendor and patient engagement via video.
Vyopta has redefined customer engagement with guided web-based video interactions for on-demand and scheduled access to subject matter specialists. Traditional video contact centers simply route calls to 'the next available representative'. Vyopta solutions deliver a significantly richer customer experience by using virtual meeting room technology by Polycom to connect customers with one or more specialists, immediately, based on the customers' defined product or service needs. In addition, Vyopta delivers required business intelligence allowing organizations to optimize customer experience and outcomes. Vyopta applications integrated with Polycom video systems and infrastructure technologies open up innovative new approaches to deliver telehealth, infrastructure asset management and customer services.
Because Vyopta has satisfied Polycom's extensive interoperability requirements, the new Video Customer Engagement solutions will be certified as Polycom Ready in Polycom's Technology Partner Program. Polycom Ready solutions, including end-user devices, network devices, and software applications, are tested for interoperability with Polycom products and applications. When customers see solutions bearing the Polycom Ready badge, they know they have been proven to work with the world's leading open standards-based UC&C platform.
"We're excited to team with Polycom to provide video customer engagement solutions that not only allow Polycom customers to improve the way they currently interact with their customers, vendors and patients, but to extend expert services to sell and support a broader product set from a website and video stations in a convenient, scalable, affordable way," said Alfredo Ramirez, President and CEO of Vyopta. "We believe we have cracked the code on how companies can truly capitalize on the benefits of delivering high-quality visual interactions to improve customer service and patient encounters, while optimizing use of virtual expert resources and maximizing financial performance."
"The Vyopta solutions help extend and enhance the Polycom experience by delivering enhanced functionality and reliable interoperability," said Ted Colton, Group Vice President, Strategic Alliances, Polycom. "Partnering together delivers video collaboration solutions that power richer conversations and higher productivity, which transforms lives and businesses in the process."
About Vyopta Incorporated
Vyopta is the cloud video applications company. Vyopta solutions enable companies to do more with video – integrating video into business process and operations to provide customers new ways to sell, service, communicate and innovate. The Vyopta family of products includes vAnalytics™, vAccess™, vPublish™, vSchedule™ and vControl®. For more information on Vyopta, visit http://www.vyopta.com.
POLYCOM®, the Polycom logo, and the names and marks associated with Polycom's products are trademarks and/or service marks of Polycom, Inc. and are registered and/or common law marks in the United States and various other countries. All other trademarks are property of their respective owners.
Vyopta®, vControl® and vRating® are registered trademarks of Vyopta Incorporated, and the trademarks of the Vyopta family of products are trademarks of Vyopta Incorporated. All other trademarks referenced herein are the property of their respective owners. Specifications subject to change without notice.
###