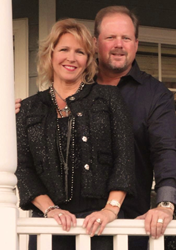 I know they will continue to grow their success because of the emphasis they place on the development of their people.
Salt Lake City, UT (PRWEB) March 04, 2014
Today MonaVie recognizes Lance and Tracey Smith (Escondido, California) for achieving the prestigious rank of Purple Diamond Executive. While this advancement in rank represents a significant milestone in their professional career, Lance and Tracey's journey began many years earlier, and continues to this day.
Yearning for Time Freedom and Financial Independence
From the time Lance and Tracey were in their early twenties, they decided that a nine-to-five job was not going to be an option for them. They loved to travel and be outdoors, and spending the best years of their lives working in a bank or retail store would never allow them that freedom. So they spent those early years looking for a way out. After reviewing many options, Lance and Tracey decided to pursue a future in the network marketing industry. "With its low barrier to entry, relatively small overhead, and nominal startup fees, it was the ideal business model for us," says Lance.
A Calculated Approach to Success
Contrary to what some may think, Lance and Tracey didn't view the network marketing industry as a means to get rich quick with little effort or input. They ran the numbers and realized that while it would take effort, they could see measurable results in a comparatively short period of time when measured against a traditional business.
What they didn't know was how well it could work. By the time they were 23, they had secured a six figure income, and by the time they were 26, they were millionaires.
Success Isn't Just Money
In those next 20 years, Lance and Tracey worked diligently in the industry and were able to achieve many of their financial goals. Chief among those goals was to have the ability to be present for and involved in the lives of their children. "We have raised a son and three beautiful daughters," says Tracey. "I am forever grateful for the freedom Lance and I have enjoyed that has allowed us to be full time parents all these years!"
A More Meaningful Life
Lance and Tracey joined MonaVie in 2008 and have been able to work closely with MonaVie's executive team as members of the MonaVie MVP council. With MonaVie's motto of "A More Meaningful Life" guiding the company's decision making processes, and with some exciting new initiatives on the horizon, Lance and Tracey are excited at how they will be able to contribute to MonaVie's powerful sense of purpose and mission. "Our confidence in the future of this company has never been greater," says Tracey. "We are just getting started!"
No doubt many people are happy for the success Lance and Tracey Smith are experiencing, and Vice President of MonaVie North America Katy Holt-Larsen is certainly one of them. "I have worked with Lance and Tracey on our MVP board for the past year, and they are amazing leaders and business owners. They are very thoughtful, intelligent board members and have become dear friends," says Katy. "I know they will continue to grow their success because of the emphasis they place on the development of their people."
About MonaVie
Since 2005, MonaVie has developed premium products dedicated to promoting health and wellness worldwide. With distribution in 40 markets, MonaVie addresses four key areas necessary for optimal health—Nutrition, Weight, Energy, and Stress—with products made from the best and rarest ingredients on Earth. The products, in conjunction with MonaVie VIEW Antioxidant Scanner, empower people to live healthier, more meaningful lives. That greater meaning is revealed through our heartfelt commitment to doing good in the world and by helping children and families in need through the MORE Project. Start living A More Meaningful Life today and discover the true, life-changing power of MonaVie. Learn more at http://www.monavie.com, or connect with us on social media.