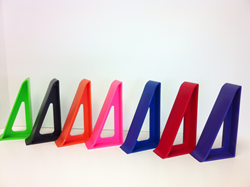 The American Cancer Society estimates that 50,310 Americans will die from colorectal cancer in 2014.
Wichita, KS (PRWEB) March 04, 2014
Colorectal cancer is the second leading cause of cancer-related deaths in the United States, preceded only by lung and bronchial cancer. The American Cancer Society estimates that 50,310 Americans will die from colorectal cancer in 2014. Though younger people can develop colorectal cancer, approximately 90 percent of new cases occur in adults over the age of 50. Furthermore, 95 percent of colorectal cancer related deaths occur in this same age group. The American Cancer Society urges screening, especially for those over 50, to lessen the risk of developing a more severe case of colorectal cancer.
J Wedge owners Mike and Carolyn Janzen are excited to announce that the company will donate $2 for every blue J Wedge sold throughout the month of March, to the American Cancer Society. J Wedge will also be sharing various facts, tips, and other pertinent information regarding colorectal cancer through its social media during March. The J Wedge, an innovative treatment for plantar fasciitis/heel pain, comes in seven different colors. It can be purchased for $19.95 online at http://www.jwedge.com. Convenient carrying bags are also available for an additional fee.
Developed by runner Mike Janzen and physical therapist Carolyn Janzen, the J Wedge was a creation of necessity. Mike, who had participated in various races ranging from one mile to marathons, developed a severe case of plantar fasciitis. Though he tried all of the mainstream treatments, including ice, massage, night splints and custom orthotics, none alleviated his pain. Thus the two decided to focus on stretching the fascia itself, and the J Wedge was created.
Using the J Wedge three times per day can effectively treat heel pain caused by plantar fasciitis and eliminate recurrence as well. Stretching with this revolutionary tool takes less than one minute.
About J Wedge
If you are currently suffering from plantar fasciitis/heel pain and want to live free of discomfort, please visit http://www.jwedge.com. The J Wedge was developed in Wichita, Kansas by a runner and physical therapist after mainstream treatments for plantar fasciitis/heel pain failed to alleviate the runner's symptoms. A patented product, the J Wedge is designed and manufactured in the USA.