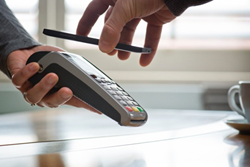 The most notable feature of this pilot is how easy it is for users to add their credit cards to their phone...
Toronto, Canada and Sabadell, Spain (PRWEB) March 04, 2014
Next-generation transaction technology provider, Carta Worldwide, announces the launch of its technology pilot with Banco Sabadell, delivering Host Card Emulation (HCE) for NFC mobile payments.
This solution simplifies the complexity typically associated with mobile payment deployments, enabling EMV secure proximity transactions that are compatible with existing contactless POS acceptance systems without the need for traditional integration and system upgrade costs.
The trial will be the most advanced of its kind. Combining innovative software on the mobile device with highly secure cloud processing, this unique technology eliminates the need to deliver and manage NFC credentials on the device. The comprehensive HCE solution provides full lifecycle support for cardholder credentials and transactions. It will use devices with Android OS KitKat 4.4 and support NFC-based High Value Transactions (HVT) with mobile PIN.
Backed by Carta's next generation transaction technology, the solution allows Sabadell to rapidly connect and deploy while minimizing cost and time associated with integration and system upgrades.
Banco Sabadell was one of the banks selected to conduct this pilot based on its pioneering role in payments innovation and implementation of technology and solutions for mobile banking.
According to Albert Figueras, Director of Credit Cards and Consumer Finance at Banco Sabadell: "The most notable feature of this pilot is how easy it is for users to add their credit cards to their phone without having to manipulate any physical secure element or rely on 3rd party service providers."
Carta CEO Brian Semkiw noted: "HCE technology will accelerate the deployment of NFC based mobile products with a fraction of the cost of traditional models that are currently in market. I'm very excited about the potential for this technology breakthrough to accelerate deployment of NFC mobile payment services."
About Banco Sabadell
Banco Sabadell is Spain's fourth largest private banking group and is comprised of various banks, brands, subsidiaries and part-owned companies, covering all areas of the financial business sector, with the common denominator of professional performance and quality. With more than 6.5 million customers, Banco Sabadell occupies an outstanding position in SME's and the affluent clients' segment. Banco Sabadell currently operates in 18 countries, employs over 17,000 people and has total assets exceeding 170 billion Euros.
http://www.bancsabadell.com
About Carta Worldwide
Carta Worldwide is an international leader in digital transaction technology, specializing in mobile and emerging payments. Carta's next-generation platform is specifically architected to meet the complexities of the evolving payments environment. It excels where legacy systems are challenged, delivering end-to-end solutions that bridge the gap between financial and mobile systems.
http://www.cartaworldwide.com