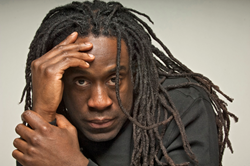 "Will Calhoun's latest breakthrough jazz album, Life In This World, has it all. It deserves more than five stars. It deserves a Grammy." - Carol Banks Weber
Fort Lauderdale, FL (PRWEB) March 03, 2014
South Florida's premier modern jazz organization is excited to present The Will Calhoun Ensemble on Saturday, March 8, 2014, 8:00 p.m. This concert will take place at the Rose and Alfred Miniaci Performing Arts Center on the Nova Southeastern University campus, 3100 Ray Ferrero, Jr. Blvd, Davie 33314. Tickets are $40 ($15 for students) and can be purchased from the Broward Center box office by calling 954.462.0222, option #4 in Broward; or online at http://southfloridajazz.org.
Before he won two Grammy® Awards and became famous as a member of the groundbreaking rock group Living Colour, Will Calhoun was an accomplished jazz drummer, having been raised on a steady diet of his father's bebop records. He graduated with honors from Berklee School of Music and then he hit the road. In 2000, he led the Will Calhoun Quintet that featured Bobby Watson and Terell Stafford on his Grammy-nominated album Live at the Blue Note. Jazz is in his blood, a part of his heritage. "Before rock, before hip-hop, before funk," he explains, "In my family, African-American history was very important, whether it was Muhammad Ali or Jim Brown, Coltrane, Miles, Duke Ellington—it wasn't just listening to the music in my house. The life styles of these men and other women were laid down as history lessons on the music and culture." Jazz quite obviously loomed large for this prodigious drummer.
Mr. Calhoun recorded with the bands of Wayne Shorter, Jaco Pastorius, and also B.B. King. After intense immersion in West African rhythms and also percussive electronica, he returns to his jazz roots with this band featuring virtuosic bassist Charnett Moffett and keyboard star Marc Cary, who garnered three Grammy nominations working with trumpeter Roy Hargrove and vocalists Abbey Lincoln and Betty Carter. The frontline features two special guests: Miami native saxophonist, Marcus Strickland, a five-year fixture in Roy Haynes' Fountain of Youth quartet and now a successful New York bandleader. He teams with trumpeter Brian Lynch, who has had an illustrious career in the bands of Phil Woods and Eddie Palmieri and played in the final iteration of Art Blakey and the Jazz Messengers. Lynch holds academic positions at University of Miami's Frost School of Music, NYU, and the North Netherlands Conservatory.
This modern mainstream band will be pulse-pounding for the South Florida JAZZ audience as a recent stint at the Blue Note in New York firmly established.
Artistic Personnel
Will Calhoun – drums
Marc Cary – piano
Charnett Moffett – acoustic bass
Brian Lynch – trumpet
Marcus Strickland – tenor and soprano saxophones
Funding for this organization is provided in part by the Broward County Board of County Commissioners as recommended by the Broward Cultural Council.