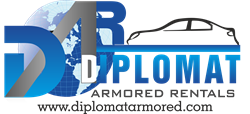 Sometimes the key to traveling safely is all about having the right key.
Washington, D.C. (PRWEB) March 05, 2014
Diplomat Armored Rentals, a small veteran owned business based in Washington, D.C. meets the needs of private and public sector clients looking for a safer way to travel.
With clients ranging from Heads of State, celebrities, top executives, foreign embassies, executive protection companies and private military contractors, Diplomat Armored Rentals has vehicles of all types to meet the needs of people traveling abroad.
When asked which armored vehicles were the most common, Christopher Hill, the contracting Manager at Diplomat Armored Rentals stated, "Our armored Cadillac Escalade and Mercedes Guard are the cars of choice in Washington D.C. and New York. While in Brazil a lot of clients have been booking the armored Mercedes Sprinter vans for the 2014 World Cup. In Libya and Iraq clients prefer the armored Toyota Land Cruiser. In some locations low-profile is the way to go, so clients traveling to Mexico and Venezuela like Jeep Cherokees and Toyota Prados. It all depends on the security threat in that area."
The Embassy Book includes the vehicle types, basic vehicle specs, armor levels, vehicle location and pricing.
It is available for viewing online at: http://www.flipsnack.com/96BBA5B8B7A/ftiqdaf5.
They currently have armored passenger vehicles available for rent in the US, Mexico, Honduras, Venezuela, Colombia, Brazil, Argentina, Chile, United Kingdom, Switzerland, Turkey, Italy, Moscow, Libya, Nigeria, Kenya, South Africa, Afghanistan, Iraq and in the Philippines.
During special events like the G77 Summit in Bolivia armored vehicles are shipped to provide delegations with vehicles in areas that don't have armored vehicles.
There is a Table of Contents on page 5 with a key to the "Services Offered Icons". From there you can skip to the locations of interest, or flip through the entire 46 page booklet.
(It is titled the embassy book because the hard copies are sent to embassies. These vehicles and services are also available to private sector clients.)
Their clients include the U.S. State Department, The Organisation for the Prohibition of Chemical Weapons (O.P.C.W.), the World Bank/IMF, and even the hip hop artist T.I.
Christopher continued, "We're pretty proud of our diverse range of clients. When the OPCW won the Nobel Peace Prize last year, we were very proud to have played small part of their missions in Africa. I'm pretty sure we're the only company in The N.D.I.A. (National Defense Industrial Association) and the N.L.A. (National Limousine Association)"
For additional information on our services, contact them at: sales(at)diplomatarmored(dot)com.
Or checkout their website at: http://www.diplomatarmored.com.
For reservations, they have operators available 24/7 at 1-888-480-0454.
Keywords: armored car, armoured car hire, armoured vehicle, armored vehicles, armored car for rent, armored car for lease, luxury armored vehicle, diplomatic security services, diplomat armored rentals, diplomat armoured rentals, armored car for rent, vehiculos blindados renta, rent, armored toyota Land Cruisers, armoured tlc, armored tlc, executive protection, security driver, car hire, car rental, Private security company, Private Military Contractor, Diplomatic Security