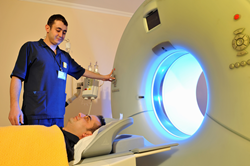 "Medical imaging has transformed the diagnosis and treatment of disease and other conditions which, in turn, has saved lives, reduced healthcare costs, and significantly reduced the need for exploratory surgery."
Fairfax, VA (PRWEB) March 05, 2014
The Radiology Business Management Association (RBMA) today applauded the Medical Imaging & Technology Alliance (MITA) for the launch of MITA's Imaging Forward, a campaign to highlight the groundbreaking innovation in medical imaging technologies and the impact of these advances on patient care and healthcare delivery.
"Medical imaging has transformed the diagnosis and treatment of disease and other conditions which, in turn, has saved lives, reduced healthcare costs, and significantly reduced the need for exploratory surgery," said Wendy Lomers, President, RBMA Board of Directors. "With the launch of MITA's Imaging Forward campaign, the myriad advances in medical imaging that have fundamentally changed the practice of medicine and enhanced patient care are finally getting their due attention."
RBMA members run radiology practices, operate imaging centers, and manage hospital radiology departments. They see first-hand the benefits that advances in diagnostic imaging bring to their patients.
Through a variety of multi-media channels, Imaging Forward will draw attention to the dramatic progress made in medical imaging over the past 20 years and highlight the next wave of imaging technologies. Because of advancements in medical imaging, technology once only imagined is now the medical standard of care. For example, low-dose computed tomography (LDCT) can find tiny tumors the size of a grain of rice, which has been shown to reduce lung cancer deaths by 20 percent compared to chest x-ray alone.
Despite the far-reaching and proven benefits of these invaluable technologies, Congress and the Centers for Medicare & Medicaid Services (CMS) have cut Medicare imaging reimbursements multiple times since 2006. Further cuts will only continue to impede access to life-saving medical imaging services and undercut the benefits of early detection and treatment.
Imaging Forward will drive the conversation about medical imaging's role in advancing quality healthcare, improving patient outcomes, and reducing costs.
More information about Imaging Forward can be found at medicalimaging.org/imagingforward.
The Radiology Business Management Association is a national not-for-profit association providing members with applied business information and intelligence applicable in any radiology setting. The RBMA has approximately 2,300 members involved in various management capacities in private practices, academic radiology groups, imaging centers and hospitals. The RBMA continues to be recognized as the leader for radiology-specific educational programs, products and services, publications and data.