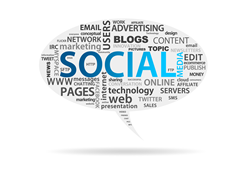 39% of Teens think their online activity is private.
St. George, UT (PRWEB) March 05, 2014
Communication is the key to a teen's safe interactions on social media networks, according to the new 2014 Social Media Guide for Parents. Oftentimes, teens have questions in regards to online predators, identity theft, malicious posts, cyberbullying, etc....
Keeping the lines of communication open ensures that teens go to their parents with these questions, as opposed to online friends. One of the most important social network tools parents should be talking with their kids about is the often under-used privacy settings.
Facebook Makes Privacy Settings Unsafe for Teens
Up until October 16, 2013, Facebook users between ages 13-17 could only share posts with friends, and friends of their friends. Now, according to the social network's current privacy policy, these teens can now post publicly on the site. This is great cause for concern since teens tend to post very private information online these days.
Facebook's reasoning is that these new settings will make the social media experience more enjoyable. They're allowing themselves to mirror other social media sites, such as Twitter and Google Plus, who have always allowed teen users to publish posts that can be viewed by the "general public."
But, for parents, this is yet another aspect of social networking that they need to educate themselves about in 2014. Then, and only then, can parents communicate concerns, dangers and safety tips in regards to privacy settings.
Teens tend to take more risks when posting in social networks. Many don't understand the consequences of posting private information, publicly online. And, of those who do, most don't take these consequences seriously until it's too late.
Statistics on Teens and Privacy Settings Education
According to a 2013 MediaSmarts report, generally, teens are well-informed when it comes to protecting their online content. Yet, both parents and teens need more education in regards to 2014 privacy policies. Privacy settings are one of the keys to protecting data.
And, it's not just about online predators and cyberbullies anymore. In 2014, it's important to understand how corporations use the content to judge others, including potential employers, colleges and universities. Here are some important stats from the report:

68% of these teens mistakenly believe that any site with a privacy policy automatically keeps their content private, and doesn't share it with anyone.
Only 66% have been taught about the various ways companies collect and use content published online, especially in social media sites.
39% mistakenly believe that companies are not interested in their online posts, or any other content published about them online.
Of the teens surveyed, 82% have been educated about online privacy settings. Here's where they learned about these settings:

25% learned about these settings from friends.
15% learned about privacy settings from their teachers.
41% admitted that the main source of their privacy policy education was their parents.
The 2 Most Important Tips for Parents about Privacy Policies
These are two of the most important tips that parents should take away from these stats:
1. Parents need to stay educated about privacy settings. This means actually reading those new "terms of service updates" and "privacy policy changes." Social media sites send emails to users about these changes. They also post announcements on their sites letting people know new changes exist. Parents need to start reading these updates in order to keep up with changes that can and will affect their kids' online safety.
2. Parents need to communicate with teens about privacy settings. Many parents have had "the talk" about posting personal, private information about themselves online. But, online safety is much deeper than that in 2014. Today, it's important for teens to understand policy changes, and how new "privacy defaults" can bring danger into their lives. Communication is key to keeping your teens safe while interacting with friend (and strangers) on social media networks.
Oftentimes, teens find out about changes to privacy policies before they parents do. Yet, the terms of these agreements are written in such complex manners that they don't understand them. That's why it's so important that parents read these policies, and communicate their terms with teens.
The new Social Media Guide For Parents from Liahona Academy, provides the tools parents need to understand how to use social media privacy settings to protect teens online.