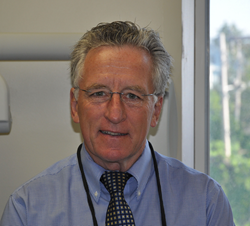 Braintree, MA (PRWEB) March 03, 2014
Dr. Thomas Mone now offers The Chao Pinhole Surgical Technique™, a minimally invasive treatment for receding gums that allows dental professionals to repair recession without the invasive surgery and recovery time of gum grafting. Dr. Mone is among the first group of periodontists and dentists in the country to undergo the training required to perform this new technique, also known as Chao Pinhole Gum Rejuvenation™, which was created and patented by Los Angeles dentist Dr. John Chao.
During gum grafting surgery, the conventional treatment for gum recession, gum tissue is cut out of the palate and sewn to the affected area. Due to the recovery time the procedure entails, doctors can usually only treat one or two teeth in a single session. For patients with significant recession, this process could take months or even years to complete.
Using The Chao Pinhole Surgical Technique™, Dr. Mone can treat multiple teeth simultaneously and each tooth can be treated in just minutes. The entire procedure ranges between 20 minutes and an hour, depending on how many teeth are in need of treatment. Chao Pinhole Gum Rejuvenation™ provides an immediate cosmetic improvement and allows patients to start enjoying the benefits of healthy gums with minimal inconvenience. Moreover, because the procedure is incision-free and suture-free, most patients experience little to no bleeding, swelling, or pain.
During a Chao Pinhole Gum Rejuvenation™ procedure, Dr. Mone numbs the receded areas with a local anesthetic. Depending on the number of teeth being treated, he makes one or two tiny points of entry (approximately the size of a ballpoint pen's tip) near the affected tooth. Dr. Mone then uses a specially designed dental instrument to loosen the gum tissue and move it back to a normal position. Tiny collagen strips are placed through the point of entry to keep the gums in place during the healing process.
Gum recession can affect people of all ages for a number of reasons, such as overly zealous brushing, genetics, hormonal changes, tobacco use, and gum disease. For many people, the increased sensitivity to hot and cold temperatures is the first indication that a problem exists.
To learn more about gum recession and The Chao Pinhole Surgical Technique™, please visit http://www.braintreeperio.com or call (781) 348-9925 to schedule a consultation with Dr. Mone today.
About the Doctor
Mone Periodontics is a periodontal practice offering personalized dental care for patients in Braintree, MA. The leading periodontist at the practice, Dr. Thomas Mone, graduated from the University of Massachusetts with a Bachelor's degree, and then went on to attend the University Of Pennsylvania School Of Dental Medicine and graduated at the top of his class. He completed his periodontal training at Boston University Goldman School of Graduate Dentistry. Dr. Mone is part of one percent of dental professionals providing the LANAP® FDA cleared laser procedure for gum disease and periodontal treatment. To learn more about Mone Periodontics and their dental services visit their website at http://www.braintreeperio.com and call (781) 348-9925.