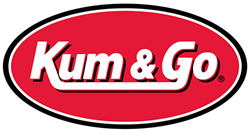 "Kum & Go has a long history of generous charitable contributions, and we are excited this partnership will feature a Kum & Go-sponsored Habitat home in one of the 11 states where the company operates."
West Des Moines, Iowa (PRWEB) March 03, 2014
Kum & Go has launched a new partnership with Habitat for Humanity International, a global nonprofit that creates affordable housing in partnership with low-income families. The Kum & Go initiative, which includes a corporate cash donation and consumer fundraising, is currently Habitat's only partnership with a convenience retailer.
Kum & Go, the fifth largest privately held, company-operated convenience store chain in the U.S., has committed a $100,000 corporate gift to support Habitat's mission. The company also will sponsor construction of a Habitat for Humanity home in one of the communities Kum & Go serves through its more than 420 stores in 11 states.
Customers will be asked to join the effort by adding a $1 donation to their in-store purchases throughout the month of March. Kum & Go will sponsor a Habitat for Humanity project in the region that collects the most money as a percentage of customer traffic through its stores. Kum & Go's goal is to receive $100,000 in customer donations to support the company's "Let's Build a Home Together" project. All donations go to Habitat for Humanity to support their mission to build homes, communities and hope.
"We are delighted to launch this initiative with Kum & Go," says Lysa Ratliff, Senior Director of Corporate Programs for Habitat for Humanity International. "Kum & Go has a long history of generous charitable contributions, and we are excited this partnership will feature a Kum & Go-sponsored Habitat home in one of the 11 states where the company operates."
"Our partnership with Habitat for Humanity brings together two great organizations that are dedicated to supporting and enriching communities," says Kum & Go President and CEO Kyle J. Krause. "We are honored to be Habitat's only convenience retail partner, and we encourage our customers to join us in supporting this important effort to provide affordable housing in our communities."
Both organizations are also focused on building LEED-certified, sustainable buildings. Kum & Go's dedication to sustainable practices can be seen in its newest stores, which are designed, constructed and submitted for LEED (Leadership in Energy and Environmental Design) certification. Kum & Go currently has 67 LEED-certified stores, with 17 additional projects under construction — the most of any convenience retailer in the nation. Kum & Go also strives to be a good corporate citizen by donating 10 percent of profits each year to charitable causes in the communities it serves.
More than 1,500 Habitat for Humanity affiliates are at work in the United States, building houses in partnership with people in need of decent, affordable housing. Habitat homes are purchased by low-income families through no-profit mortgages, thanks to the donated labor of Habitat volunteers and the support of partner organizations, individuals and foundations. Families buying Habitat homes invest sweat equity hours toward building their homes and the homes of others.
# # #
About Kum & Go, L.C.
Kum & Go is the fifth largest privately held, company-operated convenience store chain in the United States. Founded on exceptional customer service, Kum & Go is a pioneer in the convenience store industry. The family-owned company began in 1959, in Hampton, Iowa, and has grown to more than 420 convenience stores in 11 states (Iowa, Arkansas, Colorado, Minnesota, Missouri, Montana, Nebraska, North Dakota, Oklahoma, South Dakota and Wyoming). Thanks to the efforts of its 4,600 associates, Kum & Go convenience stores continue to lead the industry in customer service and convenience.
About Habitat for Humanity International
Habitat for Humanity International's vision is a world where everyone has a decent place to live. Anchored by the conviction that housing provides a critical foundation for breaking the cycle of poverty, Habitat has helped more than 4 million people construct, rehabilitate or preserve homes since 1976. Habitat also advocates to improve access to decent and affordable shelter and supports a variety of funding models that enable families with limited resources to make needed improvements on their homes as their time and resources allow. As a nonprofit Christian housing organization, Habitat works in more than 70 countries and welcomes people of all races, religions and nationalities to partner in its mission. To learn more, donate or volunteer visit habitat.org.