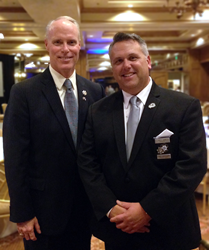 All too often we read about an incident and soon forget about it. But in many cases, the injured officers or deputies live the rest of their lives with the injuries and trauma they sustained serving the public.
San Diego, CA (PRWEB) March 03, 2014
The San Diego County Deputy Sheriff's Foundation recently honored Scripps Health President and CEO Chris Van Gorder during the group's first annual Support and Remember fundraising gala held at the Del Mar Country Club.
Van Gorder was the guest of honor at the Feb. 28 event, which recognized his outstanding leadership in the community as well as his benevolence and service following natural disasters and other catastrophes, such as Hurricane Katrina and the earthquake in Haiti.
"Chris is not only a terrific leader, but he has shown an incredible amount of compassion to our critically injured deputies and to the community through his dedication to public service and his humanitarian efforts worldwide," said foundation President Matt Clay, who presented a special plaque to Van Gorder during the gala.
The Deputy Sheriff's Foundation was created in 2004 as the non-profit charitable foundation associate with the Deputy Sheriff's Association of San Diego County to provide support to widows and children of law enforcement personnel who die in the line of duty. The foundation now provides sickness and distress assistance to San Diego County Sheriff's deputies and their families who are in need of help, have medical needs that are not completely covered by health insurance, or have other emergencies.
"It was humbling to be recognized by an organization that supports law enforcement personnel and their families when they are most in need of our help," Van Gorder said.
Prior to his career in health care, Van Gorder worked as a police officer and was seriously injured in 1978 while responding to a domestic disturbance and was hospitalized off and on for almost a year.
"That experience is a big reason why I support the Deputy Sheriff's Foundation's effort to raise money and awareness for injured deputies and police officers, and for the trauma their families experience," he said. "All too often we read about an incident and soon forget about it. But in many cases, the injured officers or deputies live the rest of their lives with the injuries and trauma they sustained serving the public.
"And of course, some sadly give their lives in the line of duty, and we need to do all we can to support their surviving families," he said.
Van Gorder serves as a reserve commander in the San Diego County Sheriff's Department Search and Rescue Unit, where he is the Search and Rescue commander. He is also a licensed emergency medical technician and instructor for the American Red Cross.
In 2012, he was named Volunteer of the Year by the San Diego County Sheriff's Department for his Search and Rescue service.
As the leader of Scripps since 2000, Van Gorder has been instrumental in positioning the not-for-profit health system among the nation's foremost health care institutions.
ABOUT SCRIPPS HEALTH
Founded in 1924 by philanthropist Ellen Browning Scripps, Scripps Health is a nonprofit integrated health system based in San Diego, Calif. Scripps treats a half-million patients annually through the dedication of 2,600 affiliated physicians and 13,500 employees among its five acute-care hospital campuses, hospice and home health care services, and an ambulatory care network of physician offices and 26 outpatient centers and clinics.
Recognized as a leader in the prevention, diagnosis, and treatment of disease, Scripps is also at the forefront of clinical research, genomic medicine, wireless health care and graduate medical education. With three highly respected graduate medical education programs, Scripps is a longstanding member of the Association of American Medical Colleges. Truven Health Analytics (formerly Thomson Reuters) has named Scripps one of the top five large health systems in the nation. Scripps is nationally recognized in six specialties by U.S. News & World Report, which places Scripps cardiovascular program among the top 20 in the country. Scripps has been consistently recognized by Fortune, Working Mother magazine and AARP as one of the best places in the nation to work. More information can be found at http://www.scripps.org.