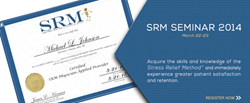 Life is too hectic these days. You no longer have the luxury of an hour in the gym – nor do you need it. The Stress Relief Method (SRM) is an amazingly powerful and effective lifestyle wellness platform that you can do on your own at work or home.
Rockaway Park, NY (PRWEB) March 10, 2014
Many of the fitness trends identified by the American College of Sports Medicine (ACSM) in a 2013 survey predicting 2014 trends, focus on efficiency, the mind-body connection, and turning to educated & experienced fitness professionals – all of which the Stress Relief Method (SRM) address.
People of all ages and demographics are eager to find an efficient and effective approach to achieve and maintain a healthy balance physically, mentally, and chemically. Athletes, business professionals, and the 100+ million Americans suffering from chronic pain demand a wellness approach that fits into their hectic schedules. They want an efficient and effective health prevention routine and/or a method that provides instant and long-term relief form pain and stress.
Stress Relief Method (SRM) founder, Dr. James E. Kiernan, firmly believes in the mind-body connection to pain and uses the patent-pending SRM applications to help people achieve a healthy balance physically, mentally, and chemically. Dr. Kiernan is now teaching this method to other professional trainers and licensed practitioners who share the same passion for helping others live a happy, active life free from pain and stress. After acquiring the knowledge and skills of the SRM, professionals can immediately integrate it into their practice and experience increased client/patient satisfaction, retention, and company revenue.
The SRM is a unique nitric oxide releasing technique for prevention and treatment of stress induced afflictions in the musculoskeletal system, the vascular system or the nervous system. More specifically, the SRM platform comprises diagnosis of a stress-induced consistent tightness on the right side of the spine, known as, "The TWIST", and utilizes a series of patent-pending moves to reduce The TWIST and prevent or resolve any afflictions associated.
This comprehensive, standardized lifestyle wellness platform includes two primary applications to address The TWIST and help free people from pain, stress, and other health problems.
SRM Physician-Applied: 8-move, 15-minute manual therapy session that addresses the entire body in one unique, comprehensive approach.
SRM Self-Applied: 11-move, 10 minute advanced self-treatment (stretch) routine that helps athletes get an edge in competition; business professionals find stress-relief at work, and adults in pain improve and maintain their health on their own at home, work, or in the gym.
The SRM movements are a coordinated series of specific untwisting dynamic motions, spinal manipulation and/or motion palpations that result in release of nitric oxide and relief from pain and stress. Delivery of the SRM helps maintain homeostasis in the cardia pulmonary vasculature and the subsequent Neuromusculoskeletal (NM) system. The cranial, cervical, thoracic, lumbar, sacral spine and the prevention of afflictions associated with The TWIST are the target of the Stress Relief Method.
We believe frequent use of the SRM Self-Applied in conjunction with intermittent SRM Physician-Applied visits to be one of the best ways to live a stress-free, pain-free, and healthy balanced life.
By understanding the vast network and interconnectedness of the human body (muscles, nerves, blood vessels, fascia, etc.), Dr. Kiernan is able to help people feel instant and sustainable relief from a variety of symptoms. Thousands have received the SRM and some of the most common words and descriptions associated with it include: "euphoric", "amazing", "better sleep", "no more pain", "less stress", "clearer mind", "better posture", "fewer headaches", "increased energy levels", and much more. Review testimonials on the website.
Professional trainers, fitness enthusiasts, and licensed practitioner can register for Day ONE, Day TWO, or BOTH days depending on the profession and skill set. Learn more about the SRM Seminar and grab one of the remaining seats for the March 22-23 meeting at SRM Rockaway: 115-06 Beach Channel Dr., Rockaway Park, NY 11694.