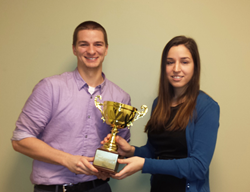 Chicago, IL (PRWEB) March 04, 2014
American Homeowner Preservation ("AHP") is pleased to announce Laura Sorg as Employee of the Month for February 2014. Laura displays and exemplifies achievement in the role of Marketing Manager. She has established great relationships within the company and continuously finds new ways to foster confidence amongst her coworkers. An AHP team member noted, "Even though she's in her own department, she still works hard to stay involved. She always has a smile on her face and cares that everyone is included and feels valued."
As Marketing Manager, Ms. Sorg has implemented numerous marketing and social media campaigns, demonstrating her expertise and commitment to the field of Public Relations. Laura has been with AHP since October 2013, since the company's transition to a real estate crowdfunding platform. She brings with her three years of industry experience and a Bachelor's in Advertising from North Park University in Chicago.
Laura, who enjoys running and interior design, lives in the Lincoln Park area. Her background in the real estate industry and passion for making a difference is what initially propelled her to the role of Marketing Manager. Laura was awarded the title of Employee of the Month for going above and beyond the duties required of her position. Coworkers voted for Laura based on the quality of work she contributes to the company on a daily basis.
American Homeowner Preservation was established in 2008 as a nonprofit organization before transitioning to for profit. Today, AHP purchases pools of distressed mortgages from banks at big discounts, and then offers sustainable solutions to families to avoid foreclosure and stay in their homes, while concurrently generating attractive financial returns for both the homeowner and investment community.
For more information about American Homeowner Preservation, please visit our website at http://www.ahpinvest.com, call (800) 555-1055 or email us at info(at)ahpinvest(dot)com.