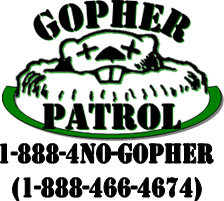 Gopher activity picks up in Los Angeles after Storm Titan passes.
Los Angles, CA (PRWEB) March 04, 2014
The recent storm Titan that hit Southern California led to a major uptick in gopher control activity in the Los Angeles area. Gopher Patrol, a gopher control company serving all of Southern California, was recently inundated with calls from residents in Los Angeles looking for help with their gopher problems. "Rain along with the strange weather we have been seeing usually plays havoc on the gophers," Richard, Service Manager at Gopher Patrol states, "Especially when it rains. Soft soil makes it much easier for gophers to dig." Gopher Tunnels can also get flooded out in a big storm destroying the gophers food cache underground. That could lead to gophers foraging again to rebuild their stock.
Generally gopher problems in the U.S. don't occur in winter. Generally gophers will hibernate. In Southern California however, gophers work year round. The weather in Southern California is usually warm year round and gophers take advantage.
Gopher Patrol recently added additional technicians to the Los Angeles area to help with the high demand. "We saw a demand for gopher control in Los Angeles and knew we had to act quick," states Richard. Gophers if left untreated can kill plants and flowers in a matter of days. A gopher's diet consists of roots; they can quickly destroy those roots killing the plant. Some Los Angeles areas are heavily landscaped and prime targets for gophers looking for their next meal. Gopher Patrol is available from 8-5 Monday thru Friday to help. They have great information on their website about gopher removal and how their service works. Visit http://www.gopherpatrol.com for more information or call them at 1-888-466-4674. Gopher Patrol recently won the Angie's List Super Service Award for the second year in a row so you know they can be trusted to perform the best gopher control service available.