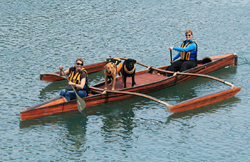 Destinations that go out of their way to welcome dog-owning travelers have a competitive advantage.
Sausalito, CA (PRWEB) March 12, 2014
"'Dog-friendly' travel is no longer a niche," reports Dave Kendrick, editor and publisher of the online newsletter and website DogTrekker.com. "So many people now travel regularly with their dogs that hotels not accommodating them are losing out on a fabulous opportunity," says Kendrick.
In just the 2.5 years since Dogtrekker.com was founded, Kendrick says, "dog-friendly travel has gone from something a few businesses offered to, "a service differentiator provided by the most successful destinations, hotels, restaurants, attractions and shops. In this past year, alone, our readership on our site and our opt-in newsletter doubled."
"We survey dog travelers regularly and, in the past year, 70% of DogTrekker readers traveled overnight with their dogs. Destinations that go out of their way to welcome dog-owning travelers have a competitive advantage," says Kendrick. "That's particularly so in the wine industry where, each week, about 30 wineries ask to be listed as welcoming dogs."
He explains that a national study by Dogtrekker.com found that 83% of dog travelers turn to search engines and websites to plan their trips. In the 6th annual Beast of the Bay awards just announced, readers of Bay Woof - a monthly newspaper serving 70,000 San Francisco Bay Area and Northern California dog owners – chose Dogtrekker.com as Best Dog-Friendly Travel Website, Best Dog Blog and runner up as Best Overall Website for Dog Lovers.
"Those dog owners voted us best, because they're looking for accuracy and detail not otherwise found in travel media, and because they know what we write about has been paw-tested," says Kendrick who describes Dogtrekker's research lab, a Labrador Retriever named Kayla, who is assigned to field-test destinations for their dog-friendly qualities.
Kendrick points to Stanford Inn by the Sea in Mendocino as one of those places. "We described the Canine Cruiser, a custom redwood outrigger canoe built by sister company Catch-A-Canoe specifically for the Stanford Inn's guests to paddle or sail the Big River Estuary with their dogs. You don't find that kind of dog-focused detail in normal travel stories."
"When people choose where they travel based on that the canine member of their family will be traveling with them, that's huge. No, dog-friendly travel can no longer be considered to be a niche, it's now mainstream," states Kendrick.
More about the Best of the Bay Awards is found at baywoof.com and dogtrekker.com.