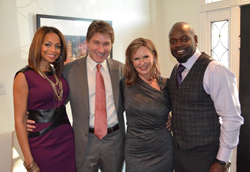 "We are all about paying it forward", says Dr. Kevin Light
Dallas, Texas (PRWEB) March 05, 2014
Ascientia, a leading integrative medical clinic in Dallas, Texas is a proud sponsor of the Emmitt Smith Celebrity Invitational golf tournament this year. This charity was started by the legendary Dallas Cowboy Hall of Famer Emmitt Smith and his wife Pat Smith. It creates and funds unique educational experiences and enrichment opportunities for underserved children. They focus their activities in North Texas and partner with other organizations with programs such as summer camp, tutoring and leadership training.
Ascientia has a very active relationship with several retired professional athletes in the Dallas area, who themselves are striving to remain on top of their game. Dallas is blessed with athletes who leverage their success and influence where it counts the most –getting children on the right path and arming them for success. Ascientia's goal is to partner with these movers and shakers to make big things happen for Texas kids.
"We are all about paying it forward", says Dr. Kevin Light, medical director of Ascientia. " We are fortunate to be aligned with local and national hero's who can help fight the good fight. We are all about making change fast and early if that's what is needed to tweak these kids life trajectory. "
Ascientia in Dallas specializes in age management programs such as bioidentical hormone replacement therapy for men & women, health programs (weight & food management), fitness/sports programs and executive physicals. They are located on 9101 N. Central Expressway, Suite 560, Dallas, TX 75231. Call 214-559-4325 for more information.