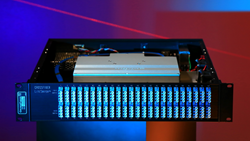 San Diego, California (PRWEB) March 04, 2014
CrossFiber Inc., the leading provider of photonic switches to Web 2.0 data centers, has announced that it is partnering with Packetcounter, Inc. to offer dramatic CapEx savings to data center operators and Cloud service providers.
CrossFiber optical circuit switches (OCS) provide "optical bypass" rack-to-rack or cluster-to-cluster for high data-rate traffic within the data center. While the per-port cost for CrossFiber OCS at 10 Gbps is lower than traditional Ethernet packet switches, the cost reduction at 40 Gbps exceeds 80%. CrossFiber all-optical switches support all data rates, have been tested at 100 Gbps, and provide future-proofing for data centers which need to migrate from 10 Gbps to 40 or 100 Gbps over time.
"To date CrossFiber's large customers have deployed their own analytics and control software to offload large, persistent flows in data centers via CrossFiber OCS. The upcoming OCS controller by Packetcounter, interoperable with CrossFiber OCS, will offer that capability to the data center and Cloud community at large," said Hus Tigli, President & CEO of CrossFiber.
"We are excited to add support for CrossFiber LiteSwitch™ OCS to Packetcounter's upcoming OCS Controller. CrossFiber and Packetcounter combined solution delivers 40G to the data center at one-fifth of the capital cost of existing large modular chassis-based packet switches," said Nathan Farrington, CEO of Packetcounter.
CrossFiber has the industry's largest engagements in Web 2.0 data centers. Packetcounter is founded by Nathan Farrington, who studied next-generation data center architectures deploying optical circuit switches at the University of California, San Diego, and was previously Data Center Network Engineer at Facebook.
About CrossFiber
CrossFiber is a leading innovator, developer and manufacturer of breakthrough photonic switches for data centers and telco fiber optic networks. CrossFiber photonic switches are based on proprietary technologies which combine 3D MEMS micro-mirrors on silicon, non-invasive beam steering (NIBS), and custom ASICs. CrossFiber's unique combination of performance and cost makes LiteSwitch™ systems the most suitable across all major applications in data centers and telco fiber optic switching. More information can be found at http://www.crossfiber.com.
About Packetcounter
Packetcounter, Inc. is a computer network software company founded by two researchers from Amin Vahdat's team from UC San Diego who pioneered the field of optically-circuit-switched (OCS) data center networks. Packetcounter's OCS Controller provides the missing control plane needed by data center operators wishing to offload traffic from more expensive "Big Iron" packet switches onto low-cost and low-power OCS switches. The company is located in Cupertino, California. For more information, contact us at info(at)packetcounter(dot)com.